This product is a brand new and unused Star Control: Origins - Earth Rising Season Pass CD Key for Steam.
Immediately after payment, you will be sent a unique and unused CD Key which can be activated on Steam. You can collect this activation code from our Autokey page. Simply enter your code into the Steam client (available free from steampowered.com). This will then grant you to a full digital download of the game.
How does our website work?
CJS CD Keys sell brand new CD Keys either taken directly from brand new sealed copies of the game, or sourced directly from world-leading game publishers. We source our keys in bulk directly from leading distributors and publishers, which reduces shipping costs. This enables us to offer instant online delivery, at extremely competitive pricing.
After you receive your key, you can activate the game on the Steam client (available free from steampowered.com). After you activate the game with the Steam software, you can download the game immediately and instantly.
Benefits of buying from CJS CD Keys:
Instant Delivery
NO payment fees
NO shield fees - we offer a money-back guarantee within the price!
BEST PRICES!
Region Free
This product key we are selling is sourced directly from the publisher, or an official distributor of the game publisher. The key is completely region free and includes all languages. Region free means that you can activate the product code from anywhere in the world.
About Star Control: Origins - Earth Rising Season Pass:
About This Content
Continue the Star Control: Origins story with Earth Rising! Now that humans are a major player on the galactic scene, one question remains: how will they use their influence, and how will their interstellar neighbors feel about it?
Earth Rising is a 4-part season pass that contains new quests, ships, rewards, and story that is tied to humanity's quest for establishing themselves as a major galactic power. Explore new stars, solve newly discovered mysteries, and form relationships with new alien races and their leaders.
What mark will you leave on the galaxy? Will it be for good, or for ill? Answer that question and much more in Earth Rising.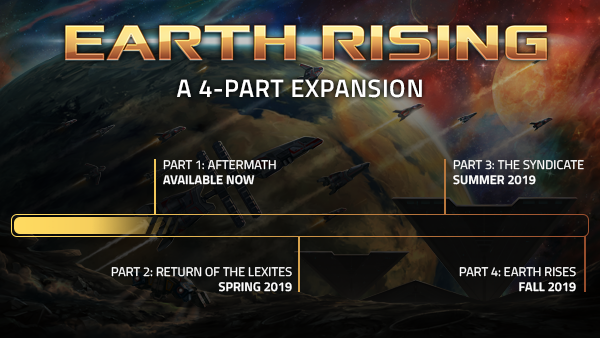 Features
Part 1: Aftermath
|
Available Now
Star Control has ordered the construction of a new base in Epsilon Trireme, but not every alien is happy about the idea of an expanding human empire and the base construction efforts have already encountered major trouble. Meanwhile, a suspiciously helpful group of aliens have returned and directed you toward the location of a potential new ally - a race of lazy aliens called the Gloosh. A new enemy has also appeared in the shadows, and it seems to have its own long and hostile history with humanity…
Part 2: The Lexites
|
Coming Winter 2019
Part 3: The Syndicate
|
Coming Spring 2019
Part 4: Earth Rises
|
Coming Summer 2019