This product is a brand new and unused Galactic Feud CD Key for Steam.
Immediately after payment, you will be sent a unique and unused CD Key which can be activated on Steam. You can collect this activation code from our Autokey page. Simply enter your code into the Steam client (available free from steampowered.com). This will then grant you to a full digital download of the game.
How does our website work?
CJS CD Keys sell brand new CD Keys either taken directly from brand new sealed copies of the game, or sourced directly from world-leading game publishers. We source our keys in bulk directly from leading distributors and publishers, which reduces shipping costs. This enables us to offer instant online delivery, at extremely competitive pricing.
After you receive your key, you can activate the game on the Steam client (available free from steampowered.com). After you activate the game with the Steam software, you can download the game immediately and instantly.
Benefits of buying from CJS CD Keys:
Instant Delivery
NO payment fees
NO shield fees - we offer a money-back guarantee within the price!
BEST PRICES!
Region Free
This product key we are selling is sourced directly from the publisher, or an official distributor of the game publisher. The key is completely region free and includes all languages. Region free means that you can activate the product code from anywhere in the world.
About Galactic Feud:
Welcome to GALACTIC FEUD!

Play WITH YOUR FRIENDS locally or online in this fast-paced party brawler. Compete against each other in this fun filled, hilarity ensuing, adrenaline pumping, caffeine consuming, all out chaotic brawl fest.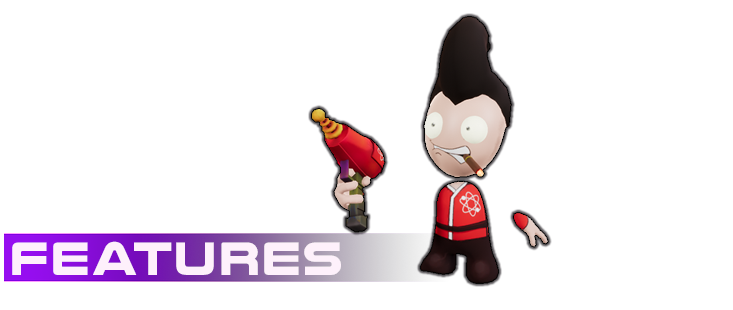 Current features

80+ unlock-able cosmetics
Over a dozen unlock-able weapons
Local or Online Multiplayer with your friends!
Partial controller support (Handles everything except kicking players and inviting/joining through Steam)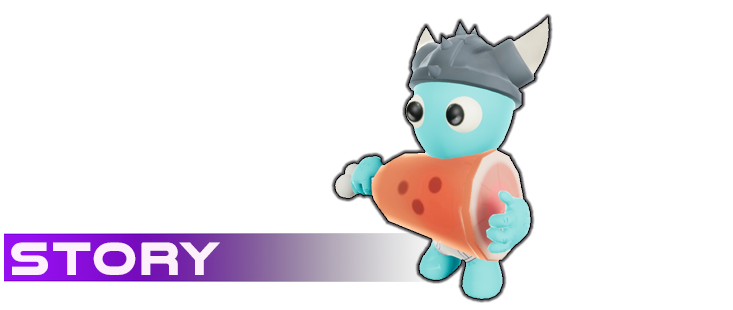 Everything was going well for The Host and Galactic Feud. So well, that the executives had approved the use of the Grab-a-Tron to get more contestants for future seasons. Only problem was, the increase in new roommates caused conditions to become disgusting and difficult. The Originals (the first contestants grabbed) had had enough. They were promised freedom for fighting and it didn't look like they were going to be sent home any time soon. Zork rallied his new friends and began their final fight.
The Contestant Rebellion of 2078xi ended almost as quickly as it started. The contestants had made easy work of all the untrained over-paid executives. That was until they stepped into the Host's office. Standing on top of his enourmous desk, The Host smiled as he held up a small remote device. His finger danced over the bright blinking red button. He taunted the angry rebels, trying to convince them he held their lives in his hands.
All the contestants looked to Zork for their next move. He knew they were tired and worn out; it was time to make a deal. Aiming high, he tried to gain everyone's release. By the end of negotiations he had garaunteed their freedom but only after the new season ended. It wasn't perfect, but it was something and the contestants knew if The Host didn't hold up his end of the deal they could just fight their way out.
They all started heading back to their chambers when The Host suddenly slipped trying to get off his desk. Everything happened in slow motion; he fumbled with the device, tossing and turning, falling through the air. It all ended abruptly with the sound of a button clicking. That's when the rhythmic beeping began. He looked over at his contestants, each one now had a green blinking light in their chest. Seconds later they all exploded into bits and parts.
At first, The Host was frantic trying to put all the pieces back together. It was impossible, nothing matched anymore and he just sat in silence thinking about all the money he lost. It took sometime for him to realize the potential of this ... opportunity, but once he did It didn't take long for The Host to pull the plug, or in this case push the button, on the rest of his staff. Now he could make his contestants look any way he wanted and the best part was the exploding microchip had fried everyone's hypothalamus, making them addicted to combat and competitions.
SPECIAL THANKS
We would never have made it to this point with out the help provided by these wonderful people. Thank you so much for testing with us, telling us our ideas are terrible and being all around great people![TCI] Pillow - TheLoneK - Chaos4000 - KillerHippie - Wolfieboy21 - Apollyoned - Meximus -JosephSolar - FaceTheSound - Porty - ZhrChaos - The_Cliffy - Stumpt Games - ChaoticHD - Trinax - KIT - AKillerDogV100 - Dardanos_of_fate - MonkeyMan1520 - Wacky - Gornall27 - Gear - Nate -
The minimum requirements represent the absolute minimum specifications required to run the game, however they will not result in a perfect experience and you will have minor visual issues.