This product is a brand new and unused Lost in Random CD Key for Steam.
Immediately after payment, you will be sent a unique and unused CD Key which can be activated on Steam. You can collect this activation code from our Autokey page.  Simply enter your code into the Steam client (available free from steampowered.com). This will then grant you to a full digital download of the game.
How does our website work?
CJS CD Keys sell brand new CD Keys either taken directly from brand new sealed copies of the game, or sourced directly from world-leading game publishers. We source our keys in bulk directly from leading distributors and publishers, which reduces shipping costs.  This enables us to offer instant online delivery, at extremely competitive pricing.
After you receive your key, you can activate the game on the Steam client (available free from steampowered.com). After you activate the game with the Steam software, you can download the game immediately and instantly.
Benefits of buying from CJS CD Keys:
Instant Delivery
NO payment fees
NO shield fees - we offer a money-back guarantee within the price!
BEST PRICES!
Region Choice:
This product we are selling is sourced directly from the publisher, or an official distributor of the game publisher. The key is available for a choice of regions. Please choose your correct region from the selection menu.
About Lost in Random:
Play the odds in Lost in Random™, a gothic-fairy-tale-inspired action-adventure where every citizen's fate is determined by the roll of a dice.




Ruled by a wicked Queen, the kingdom of Random is divided into 6 shadowy realms where life is dictated by a cursed black dice. In this story from the award-winning Swedish game studio Zoink and penned by Eisner Award-winning Adventure Time and Marvel Comics The Unbeatable Squirrel Girl author Ryan North, you'll join Even, a penniless girl who's down on her luck, in a dark quest to save her beloved sister. With her companion Dicey, a small and strange living dice, Even must learn to embrace the chaos of Random, uncovering an age-old tale with a modern message.

Walk Random's mysterious cobbled streets, meet its unpredictable residents, and take on courageous quests. Engage in fearsome battles with a unique blend of tactical combat, card collection, and explosive dice gameplay. It's time to adapt or perish as you battle inside giant board game arenas that change with every dice throw! Learn how to tip the odds in your favor, and dive into a dark wonderland where only the brave survive.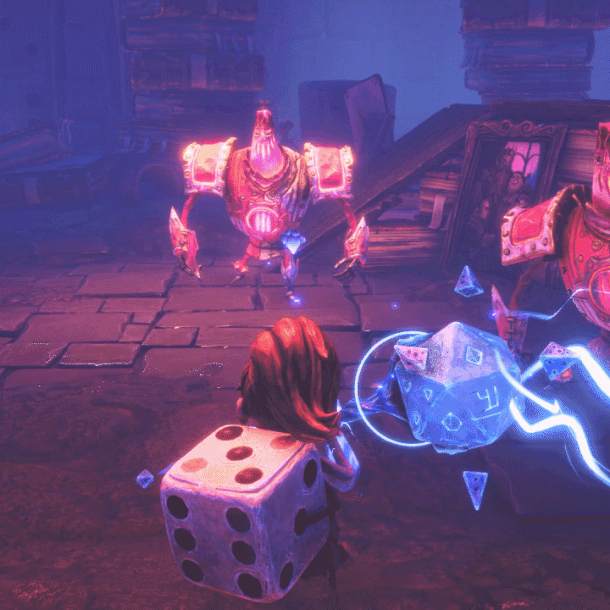 Uncover a twisted fairy tale — Penned by Eisner Award-winning Adventure Time and Marvel Comics The Unbeatable Squirrel Girl author Ryan North, step into a beautiful and haunted wonderland where you must venture through the 6 twisted realms of Random, each with its own maddening set of rules. Help its unpredictable inhabitants, save your sister, and discover a twisted tale.

Roll with it in epic, tactical dice battles — Face the unknown in a unique blend of tactical combat and card collection. Adapt your battle strategy on the fly within evolving board game arenas.

Defy your fate against all odds — Defy a cursed fate, and harness the power of randomness. Team up with your friend Dicey to play the odds, where the course of battle can be changed with a dice roll.
Play the odds. Win the game.