This product is a brand new and unused I Am Future: Cozy Apocalypse Survival CD Key for Steam.
Immediately after payment, you will be sent a unique and unused CD Key which can be activated on Steam. You can collect this activation code from our Autokey page.  Simply enter your code into the Steam client (available free from steampowered.com). This will then grant you to a full digital download of the game.
How does our website work?
CJS CD Keys sell brand new CD Keys either taken directly from brand new sealed copies of the game, or sourced directly from world-leading game publishers. We source our keys in bulk directly from leading distributors and publishers, which reduces shipping costs.  This enables us to offer instant online delivery, at extremely competitive pricing.
After you receive your key, you can activate the game on the Steam client (available free from steampowered.com). After you activate the game with the Steam software, you can download the game immediately and instantly.
Benefits of buying from CJS CD Keys:
Instant Delivery
NO payment fees
NO shield fees - we offer a money-back guarantee within the price!
BEST PRICES!
Region Free
This product key we are selling is sourced directly from the publisher, or an official distributor of the game publisher. The key is completely region free and includes all languages. Region free means that you can activate the product code from anywhere in the world.
About I Am Future: Cozy Apocalypse Survival:


You wake up on an overgrown skyscraper roof - not a living soul in sight. Cosmopolis, once a mighty array of metal and glass, lies shattered in ruins and flooded. The decades-long struggle between UNICORP and the rival corporations pursuing transhumanism ideas seems to have been over for good when society collapsed. Now it is up to you to try and solve the mystery of the last days of civilization... and your sudden awaking. Or you can just build your own future and enjoy the view of what remains of humankind.
TURN THE ABANDONED ROOF INTO YOUR OWN COZY HOME
Starting from scratch on an empty roof, explore your surroundings, find the necessary resources, tools and gadgets.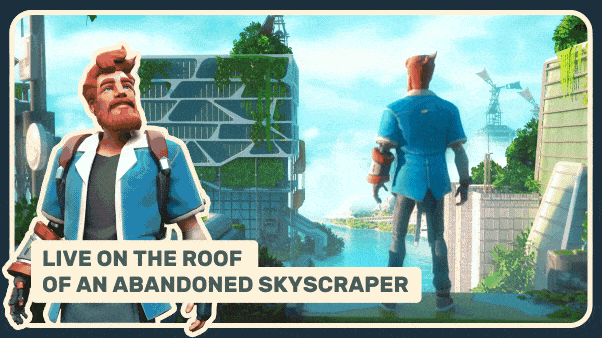 CRAFT GADGETS OUT OF ANCIENT HOME APPLIANCES
Old microwaves, rusty cars and antique computers - all will be handy! Carefully disassemble the devices to get the necessary details and put them to use for creating futuristic gadgets according to the blueprints you'll get you hands on. By the way, have we mentioned that you will get to have a cyborg hand? Upgrade it too!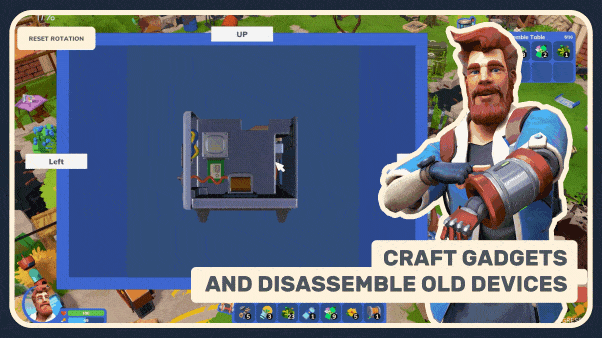 AUTOMATE YOUR CHORES
Make some friends so you won't get too lonely! Upload AI into buildings. Create bots that do your chores.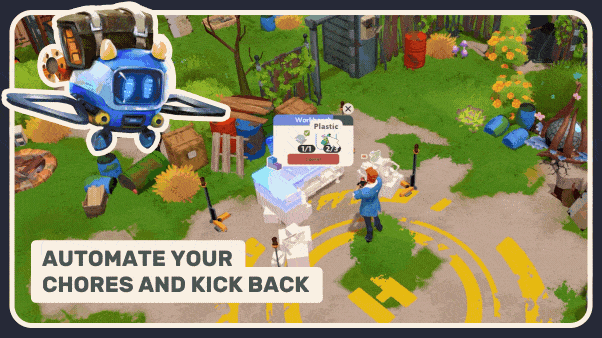 FISHING, FARMING, AND COOKING
The benefits of the collapse of human civilization? There's now enough time to pick up new hobbies! The roof is very well suited for building a garden, and the surrounding sea is full of tasty fish for the tastiest Mediterranean dishes to cook!
PROTECT YOUR BASE
Nature seems to have changed significantly after all, and there are new dangers not known to humans before. Build your defense structures and be cautious!
EXPLORE THE SUNKEN CITY AND ITS MYSTERIES
What exactly happened with the civilization and how did you end up on the roof? The answers lay somewhere in the city ruins - would you try to get to the bottom of it?