This product is a brand new and unused Darksiders II Deathinitive Edition CD Key for GOG.com
This product is a unique and unused CD Key which can be activated on GOG.com.  After your payment, you will be instantly sent a unique activation code by our automatic delivery system, called 'Autokey'. This unique activation code can be entered into the GOG website (see activation instructions below).  This will then grant you to a full digital download of the game.
How does it work?
CJS CD Keys sell brand new CD Keys for the latest games.  We source our keys in bulk direct from major Distributors.  After you receive your key, you can activate the game on the GOG client.
How To Redeem Your GOG CD Key:
1. Please create an account or login on https://www.gog.com
2. Go to http://www.gog.com/redeem
3. Enter the code and then press "CONTINUE"
4. After a short amount of time you will see the details about the product, please press "CONTINUE" again.
5. Download and install the GOG.com downloader
6. Login to the software and get back to the product page
7. Go to https://www.gog.com/account and look for the "Games" tab.
8. Press the box of the product you want to download.
9. Activate the GOG.com Download Mode on the right side of product menu.
10.Choose the installation package from the list and save it with the GOG Downloader.
Region Lock
The game keys we are selling are sourced from the EU.  They are completely region free and include all languages. This means that you can activate the key from anywhere in the world.  There are absolutely no region locks.
About Darksiders II Deathinitive Edition:
Become the terrifying force which everything fears but nothing can escape. Awakened by the End of Days, Death, the most feared of the legendary Four Horsemen embarks on a quest to redeem his brother's name. Along the way, the Horseman discovers that an ancient grudge may threaten all of Creation. Death lives!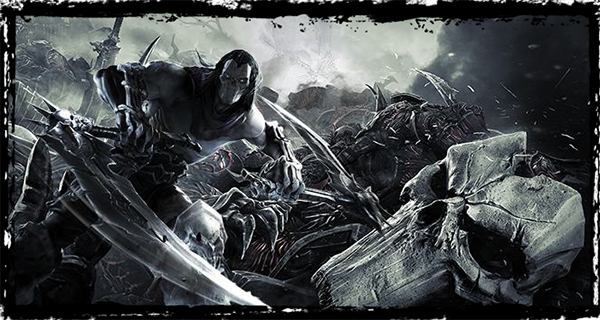 Deathinitive Edition Features:

Darksiders 2 with all DLC included and integrated into the game which offers a total playtime of more than 30 hours

Reworked and tuned game balancing and loot distribution

Improved Graphic Render Engine for higher visual quality especially in terms of lighting and shadows

Improved and reworked level, character and environment graphics

Running in native 1080p resolution

Steam Trading Cards
Features:
Play Death: Become the most feared of the legendary Four Horsemen, able to destroy entire worlds and battle forces beyond Heaven and Hell.

Epic Universe: Unlike anything the player has seen before, delivered in the unique style of Joe Mad.

Player Choice & Customization: Customize your experience with varied armor sets, weapons, and Skill Trees allowing players to create their own Death.

Replay-ability: Explore a vast open world, complete dozens of side quests and customize your Death with a full leveling system, Skill Trees and endless equipment combinations.

Traversal: Death is a nimble and agile character capable of incredible acrobatic feats allowing the player to explore the world like never before.