This product is a brand new and unused UltraGoodness CD Key for Steam.
Immediately after payment, you will be sent a unique and unused CD Key which can be activated on Steam. You can collect this activation code from our Autokey page. Simply enter your code into the Steam client (available free from steampowered.com). This will then grant you to a full digital download of the game.
How does our website work?
CJS CD Keys sell brand new CD Keys either taken directly from brand new sealed copies of the game, or sourced directly from world-leading game publishers. We source our keys in bulk directly from leading distributors and publishers, which reduces shipping costs. This enables us to offer instant online delivery, at extremely competitive pricing.
After you receive your key, you can activate the game on the Steam client (available free from steampowered.com). After you activate the game with the Steam software, you can download the game immediately and instantly.
Benefits of buying from CJS CD Keys:
Instant Delivery
NO payment fees
NO shield fees - we offer a money-back guarantee within the price!
BEST PRICES!
Region Free
This product key we are selling is sourced directly from the publisher, or an official distributor of the game publisher. The key is completely region free and includes all languages. Region free means that you can activate the product code from anywhere in the world.
About UltraGoodness:
"UltraGoodness" is a bloody mess, dynamic and fun action about the struggle between Good and Evil in the world, where the Dark Forces turned all creatures into possessed monsters. Tear your enemies to pieces, leave oceans of blood and mountains of corpses! Kill poor little animals, fricking terrorists and ghoulish-like creatures. Fight the Evil using its methods, show 'em what you got, show 'em your RAGE! But remember — it's all in the name of Goodness, of course!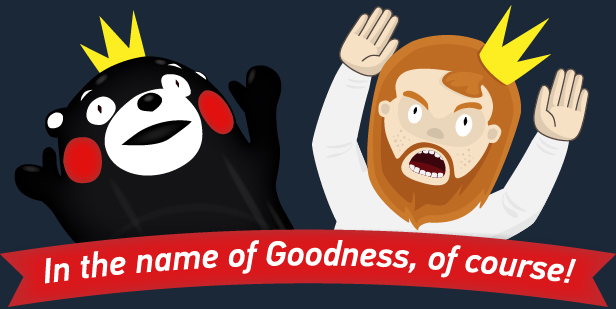 Fast-paced gameplay: kill poor creatures and try not to die too fast!

You are in the League of Goodness, dude: there are some brutal characters with the biggest nuts at your disposal, each has its own skill, guns and the powerful spells.

Against you – there is a fricking army of psychos, deadly traps, voracious demons and challenging bosses!

It sucks to fight with the whole mess alone, right? Find a random companion and the power-ups: burn or freeze your enemies, sic your cute pug on them, call the dreadful ghost (in fact he is nice) to grind their bones into the dust!

Splatter blood all over the levels, you fucking maniac!

Music? There is some music in the game… watch your ears!