This product is a brand new and unused Talisman - The City Expansion CD Key for Steam.
Immediately after payment, you will be sent a unique and unused CD Key which can be activated on Steam. You can collect this activation code from our Autokey page.
Simply enter your code into the Steam client (available free from steampowered.com). This will then grant you to a full digital download of the game.
How does our website work?
CJS CD Keys sell brand new CD Keys either taken directly from brand new sealed copies of the game, or sourced directly from world-leading game publishers. We source our keys in bulk directly from leading distributors and publishers, which reduces shipping costs.
This enables us to offer instant online delivery, at extremely competitive pricing.
After you receive your key, you can activate the game on the Steam client (available free from steampowered.com). After you activate the game with the Steam software, you can download the game immediately and instantly.
Benefits of buying from CJS CD Keys:
Instant Delivery
NO payment fees
NO shield fees - we offer a money-back guarantee within the price!
BEST PRICES!
Region Free
This product key we are selling is sourced directly from the publisher, or an official distributor of the game publisher. The key is completely region free and includes all languages. Region free means that you can activate the product code from anywhere in the world.
About Talisman - The City Expansion:
About This Content
A city of wealth and opportunity beckons…
For the brave travelers seeking the Crown of Command, the City is a place of both great potential and great peril. Wandering the streets, a visitor will find master artisans, affluent merchants, remorseless criminals, and mysterious strangers. Among its grand towers and bustling streets, shops offer armour, weapons, mounts, and more. Enchanted objects, potions, and spells can be found for sale. Mind and body can be strengthened through training, and fortunes can be foretold.
For the traveller with some gold to spend, a visit to the City can give him the edge to survive in the most dangerous regions of the land. The opportunities one has within the
City's walls may make the difference between life and death in the Valley of Fire!
Talisman: The City adds a new Region to the game for venturesome heroes to discover. A new map board and over 100 new cards bring this bustling metropolis vividly to life. Six brand new characters offer fantastic new playing experiences.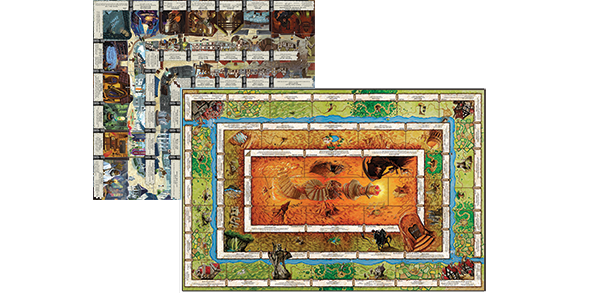 Enter the City, brave traveller, and discover the wealth and wonders it holds!