This product is a brand new and unused Skyforge - Starter Booster Pack CD Key for Steam.
Immediately after payment, you will be sent a unique and unused CD Key which can be activated on Steam. You can collect this activation code from our Autokey page.
Simply enter your code into the Steam client (available free from steampowered.com). This will then grant you to a full digital download of the game.
How does our website work?
CJS CD Keys sell brand new CD Keys either taken directly from brand new sealed copies of the game, or sourced directly from world-leading game publishers. We source our keys in bulk directly from leading distributors and publishers, which reduces shipping costs. This enables us to offer instant online delivery, at extremely competitive pricing.
After you receive your key, you can activate the game on the Steam client (available free from steampowered.com). After you activate the game with the Steam software, you can download the game immediately and instantly.
Benefits of buying from CJS CD Keys:
Instant Delivery
NO payment fees
NO shield fees - we offer a money-back guarantee within the price!
BEST PRICES!
Region Free
This product key we are selling is sourced directly from the publisher, or an official distributor of the game publisher. The key is completely region free and includes all languages. Region free means that you can activate the product code from anywhere in the world.
About Skyforge - Starter Booster Pack:
About This Content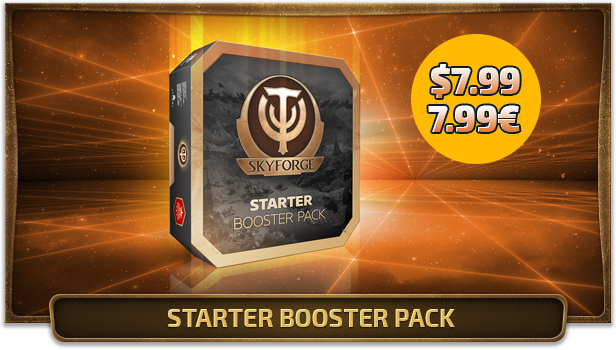 This Starter Pack contains numerous valuable items and currencies to help you start in the world of Aelion.

Premium Account (14 days)
The Premium Account boosts your rewards in credits and Knowledge of Enemies for killing enemies and completing adventures to 200%. You can also benefit from free transportation across the map and other advantages over a regular account.
2.500 Argents
Argents can be spent in the Skyforge market to obtain cool costumes, mounts or other useful items. You can also exchange Argents for Credits.
25.000 Credits
Credits are the main currency in Skyforge, used to progress your character and certain events. You can also spend your credits in the market to obtain cool costumes and other useful items.
1.000 Knowledge of Enemies
Knowledge of Enemies allows you to improve your character, unlock additional abilities and gain more might. This is the main resource required to progress in Skyforge.
5 Stimulants
If things are not going as fast as you would like, Stimulants are the way to go. Use them to finish quests faster and unlock more power for your character.
Important:
You will not be able to use a Steam-purchased Collector's Edition or Starter Kit on any account that was not created via Steam. If your account was created pre-Steam integration, or you created it via the MyCom launcher from our official website, simply head to our website store page instead.
This DLC will be delivered to the server that your FIRST log into after purchasing it. Please ensure that you log into the server that zou want to receive these items and currencies on (Server selection is available in the
my.com
Game Center, after launching the game from your Steam library).
Skyforge's unique server architecture supports one server per geographic region. Our server regions currently include servers in NA and EU. Purchases made through services in each of these regions can only be used on characters in the same region.