This product is a brand new and unused SimCity 4 Deluxe Edition CD Key for Steam
This product is a unique and unused CD Key which can be activated on Steam. After your payment, you will be instantly sent a unique activation code by our automatic delivery system, called 'Autokey'. This unique activation code can be entered into the Steam client (available free from steampowered.com). This will then grant you to a full digital download of the game.
How does it work?
CJS CD Keys sell brand new CD Keys taken directly from brand new sealed copies of the game. We source our keys in bulk direct from major Distributors. After you receive your key, you can activate the game on the Steam client (available free from steampowered.com). After you activate the game with the Steam software, you can download the game immediately and instantly.
Region Lock
The game keys we are selling are sourced from the EU. They are completely region free and include all languages. This means that since this is a steamworks game, you can activate the key from anywhere in the world. There are absolutely no region locks.
About SimCity 4 Deluxe Edition:



SimCity 4 Deluxe Edition includes the bestselling SimCity 4 and the all-new SimCity 4 Rush Hour Expansion Pack. Create the most massive region of cities ever, with a farming town, bedroom community, high-tech commercial center, and industrial backbone. Take complete control of your city's transportation system, and solve U-Drive-It missions — from fighting crime to tackling disasters. Watch your population skyrocket as you get your Sims on the go and create the ultimate living, breathing megalopolis — the most expansive SimCity 4 compilation ever.
Features
Create an Entire Region of Cities — Weave together a tapestry of cities linked by a fully integrated transportation network and watch them share and compete for resources.

Wield God-like Powers — Sculpt the landscape to create a world based on your imagination, then summon volcanoes, tornadoes, meteors, and lightning.

Be a Responsive Mayor — Build a world-class city with stadiums, airports, universities, and real-world landmarks. Deploy emergency vehicles and join in the action as they battle blazes, mobs, and more.

Get Insight from Your Sims — Read the rhythm of the city, from commuter hell to mellow cruising, noon-time crowds to night-time calm.

Includes SimCity™ 4 Rush Hour: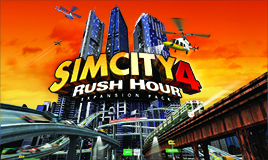 Have the ultimate level of control over your city's transportation network by completely taking charge of roads, rail, air, waterways, and even vehicles. U-Drive It! missions will be presented for you to solve, such as chasing down a bank robber or apprehending a car-jacker. Choose from all-new road types including wide-avenues, suspension bridges, or one-way streets, as well as map out seamless regional networks that whisk Sims from one city to another. Wreak havoc with all-new disasters including a UFO invasion, massive wrecks at railroad crossings, and the occasional car fender bender. There are also all-new tutorials available to help you get started.
System Compatibility
SimCity was tested for performance and hardware compatibility when it was originally launched. While the classic gameplay of SimCity 4 remains unchanged, unexpected performance and graphics issues with newer systems may occur. If you experience any performance or graphics issues, we recommend running in Windowed Mode and/or Compatibility Mode to maintain the intended experience.