This product is a brand new and unused Rover Mechanic Simulator CD Key for Steam.
Immediately after payment, you will be sent a unique and unused CD Key which can be activated on Steam. You can collect this activation code from our Autokey page.  Simply enter your code into the Steam client (available free from steampowered.com). This will then grant you to a full digital download of the game.
How does our website work?
CJS CD Keys sell brand new CD Keys either taken directly from brand new sealed copies of the game, or sourced directly from world-leading game publishers. We source our keys in bulk directly from leading distributors and publishers, which reduces shipping costs.  This enables us to offer instant online delivery, at extremely competitive pricing.
After you receive your key, you can activate the game on the Steam client (available free from steampowered.com). After you activate the game with the Steam software, you can download the game immediately and instantly.
Benefits of buying from CJS CD Keys:
Instant Delivery
NO payment fees
NO shield fees - we offer a money-back guarantee within the price!
BEST PRICES!
Region Free
This product key we are selling is sourced directly from the publisher, or an official distributor of the game publisher. The key is completely region free and includes all languages. Region free means that you can activate the product code from anywhere in the world.
About Rover Mechanic Simulator:



Rover Mechanic Simulator is a game in which you are a mechanic working on one of the first Martian colonies. Your main tasks include the repair and maintenance of Mars rovers, so that the remaining crew can collect detailed information about the structure of the planet by using them.





There are many devices at your disposal that will allow you to dismantle and maintain even the smallest parts of the rover. Use different tools such as a 3D printer, recycling machine, overhead crane, soldering iron and many more. In the later stages of the game, you'll be able to upgrade them, making your work even more enjoyable and effective.






Not all parts need to be replaced in its entirety. You can use special workbenches that can be used to repair damaged PCBs and clean and maintain parts that have worn out during rover's work. Thanks to this, you can save resources for much more difficult tasks.






Decide what kind of mechanic you want to be. The game offers you several development paths that you can choose. Are you a tinkerer who enjoys disassembling devices into small parts? Become a technician! But if you prefer to precisely analyze the damaged parts and find malfunctions faster, then becoming an analyst would be a perfect choice for you. If you want to master the recovery of resources, follow the economist's path.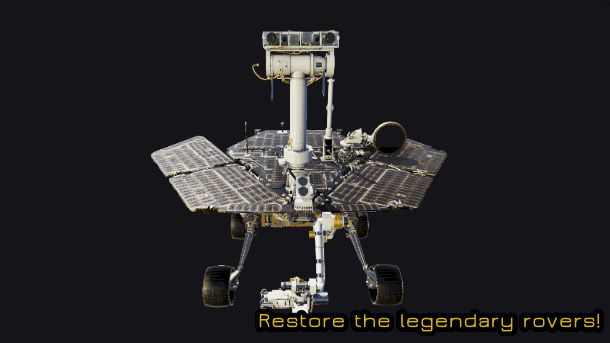 There are many devices on Mars which served people in the past but broke down at some point. You can fix and restore them to service. Thanks to you they can continue to perform their tasks by sending specialized information about the composition of the planet. "Spirit", "Opportunity" and others have served people for years and they can still do it!


Gain experience, earn higher and higher ranks and undertake more and more difficult tasks. The future of humanity on Mars rests on your shoulders!