This product is a brand new and unused Remnant: From the Ashes - Subject 2923 CD Key for Steam.
Immediately after payment, you will be sent a unique and unused CD Key which can be activated on Steam. You can collect this activation code from our Autokey page.  Simply enter your code into the Steam client (available free from steampowered.com). This will then grant you to a full digital download of the game.
How does our website work?
CJS CD Keys sell brand new CD Keys either taken directly from brand new sealed copies of the game, or sourced directly from world-leading game publishers. We source our keys in bulk directly from leading distributors and publishers, which reduces shipping costs.  This enables us to offer instant online delivery, at extremely competitive pricing.
After you receive your key, you can activate the game on the Steam client (available free from steampowered.com). After you activate the game with the Steam software, you can download the game immediately and instantly.
Benefits of buying from CJS CD Keys:
Instant Delivery
NO payment fees
NO shield fees - we offer a money-back guarantee within the price!
BEST PRICES!
Region Free
This product key we are selling is sourced directly from the publisher, or an official distributor of the game publisher. The key is completely region free and includes all languages. Region free means that you can activate the product code from anywhere in the world.
About Remnant: From the Ashes - Subject 2923:
About This Content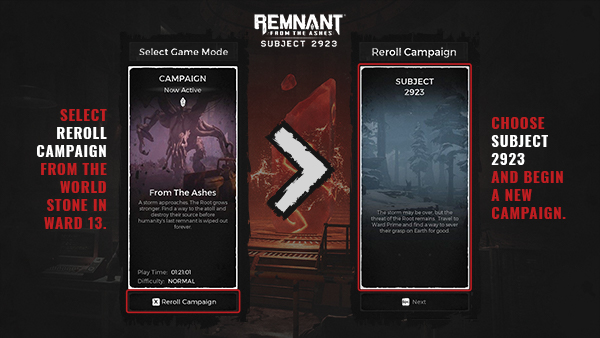 Remnant: From the Ashes – Subject 2923 requires ownership of Remnant: From the Ashes to play. Subject 2923 does not require ownership of the Swamps of Corsus DLC to play.
In a brand-new continuation of the Remnant: From the Ashes story, meet unexpected allies, traverse unfamiliar zones and dimensions, and overcome new threats to save your world. Complete new quests and conquer unique bosses to acquire additional gear, increasing your chances of surviving the rugged wilderness of Earth and beyond, as you aim to put an end to the Root and restore humanity.
New Campaign: Subject 2923
Discover the origins of 'The Dreamers' and how they connect to the dreaded Root in this brand-new campaign – continuing the story of Remnant: From the Ashes with an expedition to Ward Prime, and several other new locations. 
New Zones, Bosses, and Quests
From rural lands and an abandoned military base on ruined Earth, to the frosty and unforgiving heights of the mountainous world of Reisum, take on intense new challenges and continue your fight for survival
Superior Firepower
Outfit your character in order to survive these dangerous new experiences - choosing from a host of new weapons and modifications, new armor sets and skins, and new trinkets
Survival, Adventure, and Hardcore Mode Updates
New threats emerge in Survival and Adventure mode, as monsters, dungeons, and bosses from Reisum are added to the rotation - while Hardcore Mode receives a suite of new rewards. Access to Survival mode requires the Swamps of Corsus DLC.