This product is a brand new and unused Pathfinder: Kingmaker - Season Pass CD Key for Steam.
Immediately after payment, you will be sent a unique and unused CD Key which can be activated on Steam. You can collect this activation code from our Autokey page. Simply enter your code into the Steam client (available free from steampowered.com). This will then grant you to a full digital download of the game.
How does our website work?
CJS CD Keys sell brand new CD Keys either taken directly from brand new sealed copies of the game, or sourced directly from world-leading game publishers. We source our keys in bulk directly from leading distributors and publishers, which reduces shipping costs. This enables us to offer instant online delivery, at extremely competitive pricing.
After you receive your key, you can activate the game on the Steam client (available free from steampowered.com). After you activate the game with the Steam software, you can download the game immediately and instantly.
Benefits of buying from CJS CD Keys:
Instant Delivery
NO payment fees
NO shield fees - we offer a money-back guarantee within the price!
BEST PRICES!
Region Free
This product key we are selling is sourced directly from the publisher, or an official distributor of the game publisher. The key is completely region free and includes all languages. Region free means that you can activate the product code from anywhere in the world.
About Pathfinder: Kingmaker - Season Pass:
About This Content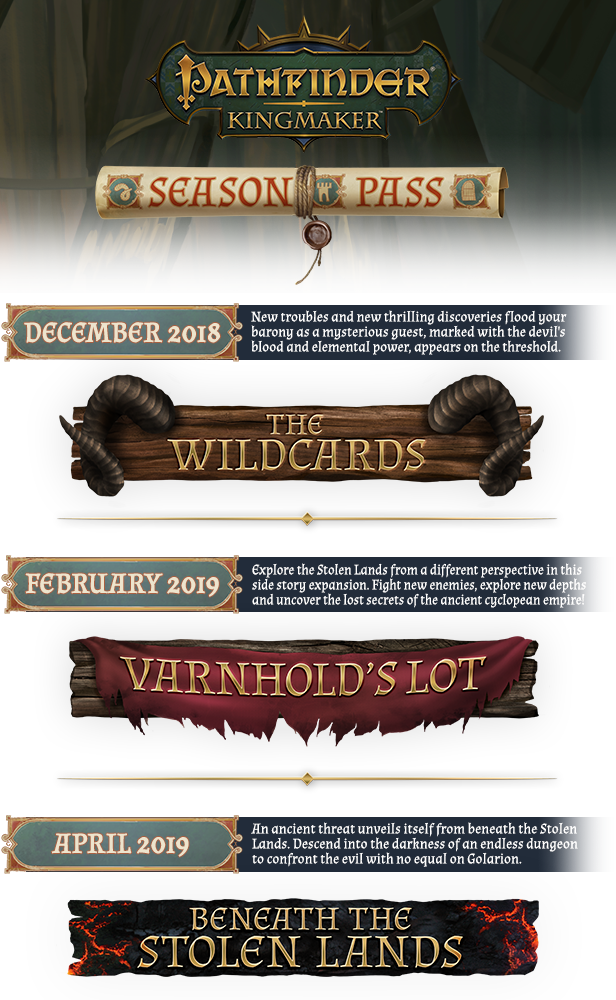 The Season Pass includes:DLC 1
The Wildcards - December, 2018
• A new playable race. During the poll to decide which bonus race we were going to add to the game, one particular option was requested a lot (besides the winner - Aasimars): Tieflings, the people with a drop of demonic blood in their veins. They didn't make it into the base game, but became the natural choice for the first piece of post-release content.
• A new playable class. They master the raw power of the elements, channeling it into their wild talents to manipulate the world around them. Kineticists are living conduits of primal energy, deadly both in close and ranged combat.
• A new companion. If you combine a race with a class, you get a character. Welcome your new companion, the Tiefling Kineticist who comes, just like every other companion, with her own storyline. She could also be a romance option and may hold one of the positions in the Kingdom.
(post-launch content, a $7,99 value).
DLC 2
Varnhold's Lot - February , 2019*A new bonus campaign.
While celebrating your victory at Jamandi Aldori's mansion, you've met another hero of the Stolen Lands: the mercenary captain Maegar Varn. While you're building your barony in the Shrike Hills and Narlmarshes, Varn and his people are establishing their own nation of Varnhold in the rocky foothills of Dunsward. What did they have to go against? Play this new story, and export the consequences of the choices you've made there into the main campaign!
This exciting new side story is about the size of one chapter of our main campaign and will take 6-12 hours to complete, depending on your playstyle.
(post-launch content, a $11,99 value).
DLC 3
Beneath The Stolen Lands - April, 2019*
A new game mode. Sometimes you want to play a story with memorable characters, rich lore, and a complicated set of choices and consequences. But then there are days when you just want to grab a sword, cast some spells, and destroy a horde of monsters! This DLC will introduce a rogue-like randomly generated endless dungeon, complete with a new unique boss. You can explore it in a separate game, or as a part of your main campaign. How deep can you go?
(post-launch content, a $9,99 value).
*Expansion pack launch dates are estimates and are subject to change.