This product is a brand new and unused Mushroom Wars 2 CD Key for Steam.
Immediately after payment, you will be sent a unique and unused CD Key which can be activated on Steam. You can collect this activation code from our Autokey page. Simply enter your code into the Steam client (available free from steampowered.com). This will then grant you to a full digital download of the game.
How does our website work?
CJS CD Keys sell brand new CD Keys either taken directly from brand new sealed copies of the game, or sourced directly from world-leading game publishers. We source our keys in bulk directly from leading distributors and publishers, which reduces shipping costs. This enables us to offer instant online delivery, at extremely competitive pricing.
After you receive your key, you can activate the game on the Steam client (available free from steampowered.com). After you activate the game with the Steam software, you can download the game immediately and instantly.
Benefits of buying from CJS CD Keys:
Instant Delivery
NO payment fees
NO shield fees - we offer a money-back guarantee within the price!
BEST PRICES!
Region Free
This product key we are selling is sourced directly from the publisher, or an official distributor of the game publisher. The key is completely region free and includes all languages. Region free means that you can activate the product code from anywhere in the world.
About Mushroom Wars 2: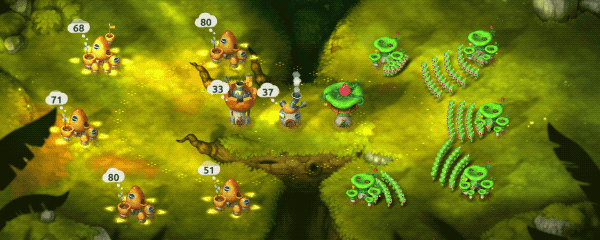 Online Multiplayer
Ranked and custom matches in various competitive modes for up to 4 players, including 2v2

Story-Driven Campaign
Over 100 missions complete with boss battles

12 Hero Characters
From 4 different tribes with unique special skills

Massive Short-Session Battles
With up to 4K troops on the battlefield

Simple but Deep Gameplay
With tons of tactics and skill-based moves

Variety of Map Configurations
And modifiers that influence gameplay significantly

Local Multiplayer
With gamepad support


Mushroom Wars 2 is an award-winning sequel to the critically acclaimed RTS hit built upon the core gameplay experience that made the original Mushroom Wars so enjoyable.
Learning the ropes of mushroom warfare is easy with simple and intuitive controls as well as gamepad support. But the journey to become a fearsome commander requires fast reflexes, an eye for strategy, and the ability to oversee up to thousands of units at once.
Once you're confident in your skills, putting your mushroom army against other players is the best way to improve. Mushroom Wars 2 comes tournament-ready, with a league system and ranked matches that make for fierce competition. In addition replay feature, and spectator mode make it easy to enter the competitive scene. Just want to enjoy a friendly skirmish with your friends? Custom games let you try out new strategies with up to three friends in free-for-all or team-based matches.
Whether you are battling enemy hordes in the the depths of the single-player campaign, or competing against your friends in various multiplayer modes, Mushroom Wars 2 provides intense, fast-paced short-session battles!