This product is a brand new and unused King's Bounty: Legions | True Tactician Ultimate Pack CD Key for Steam.
Immediately after payment, you will be sent a unique and unused CD Key which can be activated on Steam. You can collect this activation code from our Autokey page.? Simply enter your code into the Steam client (available free from steampowered.com). This will then grant you to a full digital download of the game.
How does our website work?
CJS CD Keys sell brand new CD Keys either taken directly from brand new sealed copies of the game, or sourced directly from world-leading game publishers. We source our keys in bulk directly from leading distributors and publishers, which reduces shipping costs.? This enables us to offer instant online delivery, at extremely competitive pricing.
After you receive your key, you can activate the game on the Steam client (available free from steampowered.com). After you activate the game with the Steam software, you can download the game immediately and instantly.
Benefits of buying from CJS CD Keys:
Instant Delivery
NO payment fees
NO shield fees - we offer a money-back guarantee within the price!
BEST PRICES!
Region Free
This product key we are selling is sourced directly from the publisher, or an official distributor of the game publisher. The key is completely region free and includes all languages. Region free means that you can activate the product code from anywhere in the world.
About King's Bounty: Legions | True Tactician Ultimate Pack:
About This Content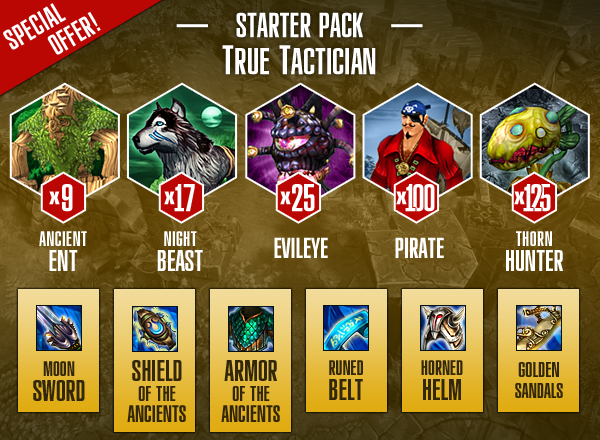 A balanced starter kit for the online strategy game
King's Bounty: Legions
. Take command of a squad of powerful creatures, enjoy fine artifacts and King's Aura for 30 days -- and all at a discount!
This kit was assembled based on recommendations from the top-rated players of
King's Bounty: Legions
. It contains units that go best together. With a capable commander, an army like this can help you defeat most of the opponents you encounter.
Use the collection recommended by the top players, and lead your army to victory! Thorn Hunters will provide cover fire. Eyebeasts will help by supplementing ranged attacks with their sleep-inducing ray. Nimble and agile pirates can burst through the enemy ranks. Speedy and powerful Night Wolves can replenish their own health. Powerful Ancient Ents will send swarms of wild bees at the enemy, revive their allies and improve defense for several turns.
Artifacts in the kit are selected to complement the squad's strengths, granting maximum bonus to stats.
Buy the set from the finest tacticians in
King's Bounty: Legions
! You will get a set of standard hero's gear, a collection of 5 types of your chosen creatures to form a battleworthy army, and also King's Aura for 30 days.
Creatures in the kit:
9 Ancient Ents;

25 Eyebeasts;

17 Night Beasts;

125 Thorn Hunters;

100 Pirates.
Artifacts in the kit:
Moon Sword;

Shield of the Ancients;

Armor of the Ancients;

Runed Belt;

Horned Helm;

Golden Sandals.
King's Aura yields:
+100% gold;

+10% leadership;

+100% resource drop chance.