This product is a brand new and unused HYPERCHARGE: Unboxed CD Key for Steam.
Immediately after payment, you will be sent a unique and unused CD Key which can be activated on Steam. You can collect this activation code from our Autokey page.  Simply enter your code into the Steam client (available free from steampowered.com). This will then grant you to a full digital download of the game.
How does our website work?
CJS CD Keys sell brand new CD Keys either taken directly from brand new sealed copies of the game, or sourced directly from world-leading game publishers. We source our keys in bulk directly from leading distributors and publishers, which reduces shipping costs.  This enables us to offer instant online delivery, at extremely competitive pricing.
After you receive your key, you can activate the game on the Steam client (available free from steampowered.com). After you activate the game with the Steam software, you can download the game immediately and instantly.
Benefits of buying from CJS CD Keys:
Instant Delivery
NO payment fees
NO shield fees - we offer a money-back guarantee within the price!
BEST PRICES!
Region Choice:
This product we are selling is sourced directly from the publisher, or an official distributor of the game publisher. The key is available for a choice of regions. Please choose your correct region from the selection menu.
About HYPERCHARGE: Unboxed: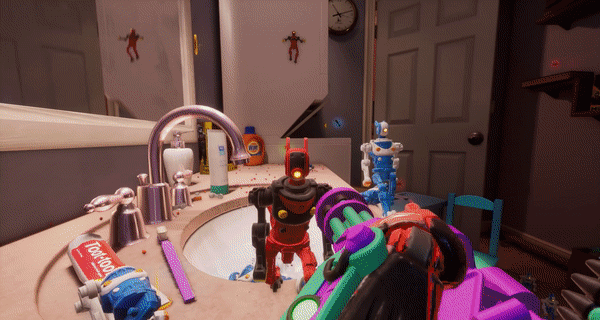 For the best experience, we recommend Split Screen or Online Co-op with friends.

Hypercharge: Unboxed is a classic style FPS that mixes Tower Defense with Wave-Based Shooting. It has a huge focus on teamwork, exploration and progression. Break free from your packaging (literally) and blast every toy to pieces. Can you and your squad fulfil the epic mission of Sgt. Max Ammo and protect the HYPER-CORE?
KEY FEATURES
Co-op: Play offline or with up to 3 of your friends in Online & Local Co-op.

PvP: Battle other small soldiers as you fight to become top of the scoreboard.

Progression: Earn XP, unlock skins, customise your action figure and weapon.

Buildables: Unlock turrets, traps and walls & build the perfect defense for each level.

Controller: Prefer to use a controller to mop up bad guys? No problem. Plug in and play!

Split Screen: Buddy up on the sofa and blast the enemy as a team!
Hypercharge: Unboxed was designed by five best friends who never gave up on their dream. From the bottom of our heart, thank you so much for checking it out!