This product is a brand new and unused Grim Dragons CD Key for Steam.
Immediately after payment, you will be sent a unique and unused CD Key which can be activated on Steam. You can collect this activation code from our Autokey page. Simply enter your code into the Steam client (available free from steampowered.com). This will then grant you to a full digital download of the game.
How does our website work?
CJS CD Keys sell brand new CD Keys either taken directly from brand new sealed copies of the game, or sourced directly from world-leading game publishers. We source our keys in bulk directly from leading distributors and publishers, which reduces shipping costs. This enables us to offer instant online delivery, at extremely competitive pricing.
After you receive your key, you can activate the game on the Steam client (available free from steampowered.com). After you activate the game with the Steam software, you can download the game immediately and instantly.
Benefits of buying from CJS CD Keys:
Instant Delivery
NO payment fees
NO shield fees - we offer a money-back guarantee within the price!
BEST PRICES!
Region Free
This product key we are selling is sourced directly from the publisher, or an official distributor of the game publisher. The key is completely region free and includes all languages. Region free means that you can activate the product code from anywhere in the world.
About Grim Dragons:
BE THE DRAGON! Slay peasants, eat livestock and burn villages! It's time to teach those pesky humans who's at the top of the food chain!

Become a glorious DRAGON and terrorize the countryside in this exciting action-adventure game!

Join Cyril, the Red Dragon, in his quest to oust the human vermin from his roaming grounds. There's only one thing standing in your way: an army of humans led by their Heroic Defender of Mankind who is... another dragon!

(more to come on this in a future release...)

Due to the limited content, the CURRENT PRICE IS 50% OF THE FINAL GAME PRICE. Early adopters will get this best price! The price will be raised over the next few releases.

Check out the progress on facebook: https://www.facebook.com/grimdragons/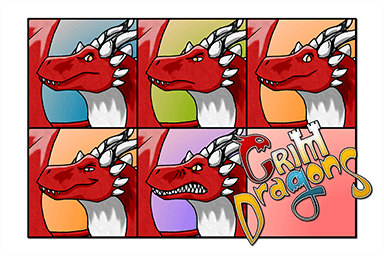 Why did I make this game?
Well... I really wanted a game where I could be a dragon. Most dragon games aren't really about the dragons at all. They're about ... people ... that's right. And people aren't dragons, are they? It's time to have a new dragon game that's about, you know: DRAGONS!

What are real dragons like?
They're not your pets... or your animal friends. They're wild, majestic, ferocious forces of nature. But, they're not mindless. No - they're very smart... and clever... (well... sometimes.) Real dragons have character, personality, depth. You could even say there's a little human in every dragon. ( ... or maybe that depends on their diet.)

Why should you get this game?
Well... if you want to be a dragon - you should totally get it!

Please, don't lose this chance to eat absolutely everyone!