This product is a brand new and unused Femida CD Key for Steam.
Immediately after payment, you will be sent a unique and unused CD Key which can be activated on Steam. You can collect this activation code from our Autokey page. Simply enter your code into the Steam client (available free from steampowered.com). This will then grant you to a full digital download of the game.
How does our website work?
CJS CD Keys sell brand new CD Keys either taken directly from brand new sealed copies of the game, or sourced directly from world-leading game publishers. We source our keys in bulk directly from leading distributors and publishers, which reduces shipping costs. This enables us to offer instant online delivery, at extremely competitive pricing.
After you receive your key, you can activate the game on the Steam client (available free from steampowered.com). After you activate the game with the Steam software, you can download the game immediately and instantly.
Benefits of buying from CJS CD Keys:
Instant Delivery
NO payment fees
NO shield fees - we offer a money-back guarantee within the price!
BEST PRICES!
Region Free
This product key we are selling is sourced directly from the publisher, or an official distributor of the game publisher. The key is completely region free and includes all languages. Region free means that you can activate the product code from anywhere in the world.
About Femida:
Femida - a nonlinear point-and-click indie game about justice where you play the role of a judge. Story-driven decision-based detective game experienced from a unique perspective.

The videogame is set in a dystopian world of the State. The State has recently undergone a violent revolution and rapidly restructures. In a year, it transitioned from a totalitarian regime and now struggles to establish a republic. Provisional Government lustrated most of the public servants so the capital needs fresh blood. You win the Labor Lottery to work at Metropolis(pretend you read these names for the first time), the capital of the State. The hero, Demian Mardoch, accepts the summon leaving countryside life with his wife and kids back in the Town. The transfer to Metropolis promises a fulfilling job, good money, and many opportunities. You were born there, your mother still resides in the capital and works for the government. But it's not the only reason you accepted the offer. Your father disappeared during the revolution and his fate is still unknown to this day.
Judge & Detective
The game has 2 layers: your job as a judge and your personal investigation into what happened to your father.
Judge's duty
The first layer is your job. This is NOT an accurate simulation of what a judge's job is. It is a fictionalized distillation of it. We didn't aim for realism, we want you to have fun doing it.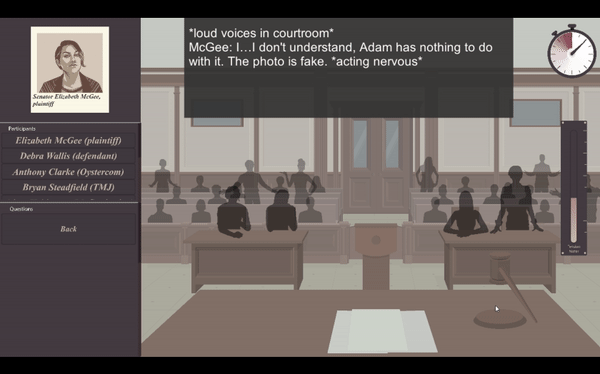 Hero's duty
The latter layer is about your investigation into the fate of your father. This part will look like a quest or... you can call it a visual novel. Not a weird one, we promise...or maybe not.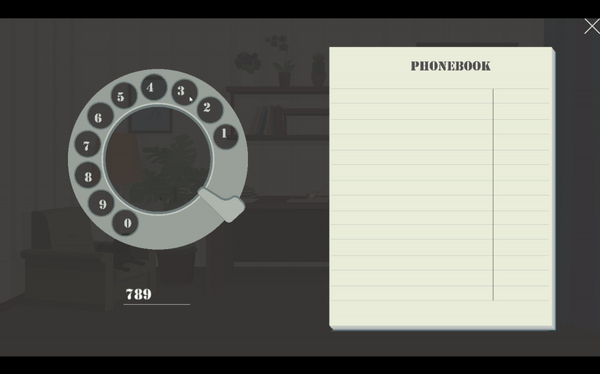 Features
Do you like moral dilemmas and complicated decisions in games? How about a game filled with them?

The story is tailored by your choices. Well, not really but there are from 4 to 7 endings depending on how you count.

Only one good ending and it's a challenge to achieve it.

Dark and puzzling plot with plenty of room for theorizing and guessing.

You don't have to constantly suck up to different sides like in other similar games.

The hero doesn't make conclusions on his own. The final call is always up to you.

However, the hero has his own personality, so you perceive the world not objectively but through his eyes.

Find your father. We know you liked a thousand plots about it before.

Read the reactions to your sentences and learn what's happening in 3 newspapers, each with different points of view. The most trusted news sources in the State.

Keep in touch in your family by writing letters. At least here she will text you first.

You can call people using an oddly satisfying rotary dialer.

Dating sim. You can cheat on your spouse and...something will happen.

Try human flesh or become food for worms if you aren't careful.

Old fashioned Quest/text adventure. NOT a visual novel, but maybe...

Politically incorrect and dark humor.

Original Judge Simulator. Femida was started back in 2016.

Depressed mind suffering from a neurological condition produced this mysterious, at times horrifying, at times surreal, story. The game initially had no good ending, only later getting one and being only fully flashed out after recovering from the mental health issues.

Note:

The universe of Femida is generalized and draws inspiration from different cultures and historical events. We don't make allusions to any particular real-life political parties or figures, nor do we promote any political message. The game illustrates corruption, confirmation bias, prejudice, the presumption of guilt.