This product is a Random M4A4 Skin for Counter-Strike: Global Offensive (Steam).
In order to activate and receive your skin:
Copy the code that you've received from CJS CD Keys after purchase.
Login with your steam account HERE at https://Skinodds.com
Go to the Settings page to update your Steam Trade URL
Redeem your code on the front page
You will receive a live update of your trade status. Instant delivery.
REMEMBER! Your inventory must be set to public and you must be eligible to trade.
Win Chances:
Here at CJS CD Keys we try to ensure maximum chances and satisfaction of our customers who purchase our random CSGO skins!
Our case is by far the best randomized M4A4 package on the market when it comes to drop chance. Even the unluckiest person in the world can drop a skin worth over €2 and in most cases the skin actually cost more than the package itself. Prices of included skins may even above €40!
This product includes random M4A4 skin.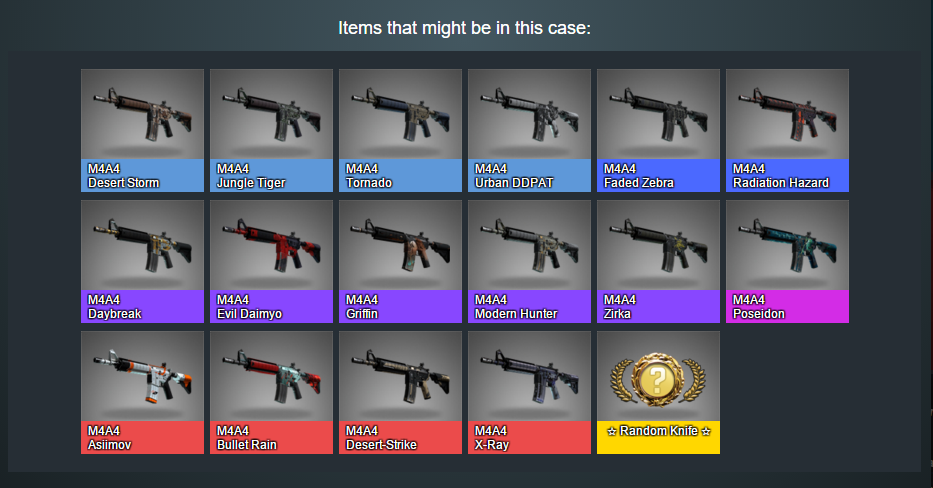 In most cases you will get one of the following (included but not limited to) M4A4 Skins:
StatTrak™ M4A4 | Howl
M4A4 | Poseidon
StatTrak™ M4A4 | Royal Paladin
...And every other M4A4 skin in the game!
In rare cases if you are lucky enough instead of M4A4 you can win a Knife! There are no restrictions regarding knife type or skin, which means you can get anything from these cases.
StatTrak™ and Souvenir options are also possible for the respective weapons!
Delivery time may differ in case of technical difficulties beyound our control, like Steam inventory delays or server issues.
Accepted trade offers are not subject to return or exchange.
How does it work?
This item is delivered via your Steam Trade URL. Your trade URL is needed in order to send you trade offers.
IMPORTANT: Inventory Privacy must be set to Public in order that we can send you our Trade Offer.
Your trade URL must match your Steam account used to make a purchase, or you will not get any trades.

IMPORTANT: Make sure not to generate a new trade URL after placing an order!

You can get your Trade URL on the following website: http://steamcommunity.com/id/me/tradeoffers/privacy