This product is a brand new and unused Cook, Serve, Delicious! CD Key for Steam.
Immediately after payment, you will be sent a unique and unused CD Key which can be activated on Steam. You can collect this activation code from our Autokey page. Simply enter your code into the Steam client (available free from steampowered.com). This will then grant you to a full digital download of the game.
How does our website work?
CJS CD Keys sell brand new CD Keys either taken directly from brand new sealed copies of the game, or sourced directly from world-leading game publishers. We source our keys in bulk directly from leading distributors and publishers, which reduces shipping costs. This enables us to offer instant online delivery, at extremely competitive pricing.
After you receive your key, you can activate the game on the Steam client (available free from steampowered.com). After you activate the game with the Steam software, you can download the game immediately and instantly.
Benefits of buying from CJS CD Keys:
Instant Delivery
NO payment fees
NO shield fees - we offer a money-back guarantee within the price!
BEST PRICES!
Region Free
This product key we are selling is sourced directly from the publisher, or an official distributor of the game publisher. The key is completely region free and includes all languages. Region free means that you can activate the product code from anywhere in the world.
About Cook, Serve, Delicious!: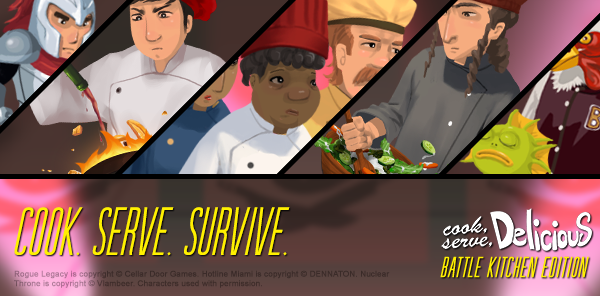 NEW UPDATE! Cook, Serve, Delicious: Battle Kitchen Edition is a brand new free expansion that provides all new local multiplayer modes and weekly challenges! From 25 indie guest cameos to tons of new features and improvements, CSD: Battle Kitchen will challenge even the most hardened cook. Some of the new features include:


Tag Team Local Multiplayer- Grab some controllers and play up to four players locally as you take turns manning the chef station in Battle Kitchen. You only have fifteen seconds to cook, and five seconds to explain to the next cook what to do first! Good luck!

Strike Challenges- Take on twelve brand new challenges on your own or up to four players tag team with adjustable difficulty settings. Warning: these challenges can be extremely difficult!

Endurance Mode- For one player or up to four Tag Team players, Endurance Mode has you making as many foods as possible perfectly, all while having to answer Chef Risotto's calls and switching out menu items and upgrading them while you're cooking. How long can you last? Also includes the new eSports Endurance Challenge, an event that ups the difficulty to an extreme degree!

Co-op Campaign- Play the campaign mode with a friend using your current save! One person is the expediter, who must give orders to the chef and send them out when they're fully cooked, and the other is the chef, unable to choose orders but must cook or do anything the expediter gives them. Tag each other to switch positions on the fly, and make your way from a zero star cafe to a five star restaurant! (co-op can be enabled or disabled at any time in the main menu of the campaign mode).

Game Improvements- A huge array of game improvements and additions have been added to the game! For more, visit the official announcement page here: http://steamcommunity.com/games/247020/announcements/detail/204114190854399404
---
Cook, Serve, Delicious is a hardcore restaurant sim, one of the few in its genre that gives the players total control over where they want to take their restaurant.
The game centers on an old, worn down restaurant in the SherriSoda Tower, which was once the heart of the building but closed down as business (and tenants) dropped to an all time low. But with the local economy rising back up and occupancy reaching its maximum, SherriSoda Tower has decided to bring back the old Cook, Serve, Delicious restaurant, and has given you complete control to bring it back to its old five star status of world class dining.
To do that, you'll start with a few thousand dollars and thirty foods to choose from to put on your menu, as well as a host of restaurant equipment and more. Nearly everything is unlocked from the start of the game for you to purchase; this is your restaurant, and you must figure out the best strategy to get that restaurant packed with satisfied customers. Can you prove your culinary skills?
And if that weren't enough, you'll also have the opportunity to be cast in the Iron Cook television show, throw parties for offices in SherriSoda Tower, read virtual mail in your SherriSoda Tower Email account which ranges from game tips to crazy spam (nearly 500 emails in all), from customers providing feedback to your restaurant to opportunities such as being able to fund projects via "ClicknStart" and other big surprises!
With hours of content and tons of secrets and unlockables, Cook, Serve, Delicious will provide a big challenge for anyone who's ready to take their crumbling, rat infested eatery to a luxurious Platinum Star Restaurant. Good luck!
New Steam Features include key binding support for all foods and events, a new gameplay option called CookBets where you will receive randomized challenges each day, fifty new spam emails and options as well as improvements to UI across the board, and full Steam Achievements, Steam Cloud, Steam Leaderboards with special Steam Challenges and Trading Cards support.

Includes the upgrade pack, "Extra Crispy Edition," that brings ten new foods to the game including Lobster, Bananas Foster, Enchiladas, Sushi and more!

Steam Controller, DualShock 4, Xbox 360, Wii U Pro Controller, DualShock 3 and Xbox One gamepad button mapping fully supported for compatible controllers. Rumble is also supported (for Windows only). (Note: first and third party drivers still required for full compatibility. For a full detailed list, be sure to check out the Steam thread: http://steamcommunity.com/app/247020/discussions/0/598199244891051604/ )

Music by award winning composer Jonathan Geer

Art by Sara Gross - Two Bit Art (Battle Kitchen art by Camille Kuo)