This product is a brand new and unused Bloons TD 6 Account for Steam.
Immediately after payment, you will be sent a unique and unused Account which can be used on Steam. You can collect this activation code from our Autokey page.
FAQ about our Steam Accounts:
Simply enter your login details into the Steam client (available free from steampowered.com). This will then grant you to a full digital download of the game.
1. We acheive a low price for our customers by using a special VPN method to purchase the game from Steam at much cheaper regional pricing than can be found in Europe.  Once this process is completed, we sell the accounts on our website pre-loaded with the game.  The game works in all regions and languages.
2. We will also provide you with the login details to the email account mailbox associated with the Steam Account.  This is useful for 2-step authentication, email verification, etc.
3. Once you receive the account, you can change the account password to something private, and the password for the email account associated with it, add your phone number etc, to ensure the account is 100% exclusively owned by yourself and impossible for anyone else to have control over.
4. The account will have Bloons TD 6 within the game library, so you can simply log in to the Steam Client and begin downloading!
How does our website work?
CJS CD Keys sell brand new products either taken directly from brand new sealed copies of the game, or sourced directly from world-leading game publishers. We source our keys in bulk directly from leading distributors and publishers, which reduces shipping costs.
This enables us to offer instant online delivery, at extremely competitive pricing.
After you receive your key, you can activate the game on the Steam client (available free from steampowered.com). After you activate the game with the Steam software, you can download the game immediately and instantly.
Benefits of buying from CJS CD Keys:
Instant Delivery
NO payment fees
NO shield fees - we offer a money-back guarantee within the price!
BEST PRICES!
Region Free
This account we are selling is sourced directly from the publisher, or an official distributor of the game publisher. The key is completely region free and includes all languages. Region free means that you can activate the product code from anywhere in the world.
About Bloons TD 6:
Craft your perfect defense from a combination of powerful Monkey Towers and awesome Heroes, then pop every last invading Bloon!

Over a decade of tower defense pedigree and regular massive updates makes Bloons TD 6 a favorite game for millions of players. Enjoy endless hours of strategy gaming with Bloons TD 6!




Regular updates!

We release several updates every year with new characters, features, and gameplay.


Boss Events!

Fearsome Boss Bloons will challenge even the strongest defenses.


Odysseys!

Battle through a series of maps connected by their theme, rules, and rewards.


Contested Territory!

Join forces with other players and battle for territory against five other teams. Capture tiles on a shared map and compete on the leaderboards.


Quests!

Delve into what makes the Monkeys tick with Quests, crafted to tell tales and share knowledge.


Trophy Store!

Earn Trophies to unlock dozens of cosmetic items that let you customize your Monkeys, Bloons, animations, music, and more.


Content Browser!

Create your own Challenges and Odysseys, then share them with other players and check out the most liked and played community content.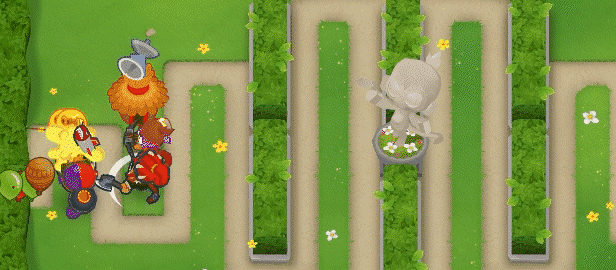 23 powerful Monkey Towers

Each with 3 upgrade paths and unique activated abilities.


Paragons!

Explore the incredible power of the newest Paragon upgrades.


14 diverse Heroes

With 20 signature upgrades and 2 special abilities. Plus, unlockable skins and voiceovers!

4-Player Co-Op!

Play every map and mode with up to 3 other players in public or private games.


Play anywhere

Single player offline works even when your WiFi doesn't!


67 handcrafted maps

With more added every update.


Monkey Knowledge!

Over 100 meta-upgrades to add power where you need it.


Powers and Insta Monkeys!

Earned through gameplay, events, and achievements. Instantly add power for tricky maps and modes.
We pack as much content and polish into each update as possible, and we'll continue to add new features, content, and challenges in regular updates.
We truly respect your time and support, and we hope Bloons TD 6 will be the best strategy game you've ever played. If it's not, please contact us at
https://support.ninjakiwi.com
and tell us what we can do better!
Now those Bloons aren't going to pop themselves... sharpen your darts and go play Bloons TD 6!
*********
Ninja Kiwi Notes
Please review our Terms of Service and Privacy Policy. You will be prompted in-game to accept these terms in order to cloud save and protect your game progress:
https://ninjakiwi.com/terms
https://ninjakiwi.com/privacy_policy
Bloons TD 6 contains in-game items that can be purchased with real money. You can disable in-app purchases in your device's settings, or reach us at
https://support.ninjakiwi.com
for help. Your purchases fund our development updates and new games, and we sincerely appreciate every vote of confidence you give us with your purchases.
Ninja Kiwi Community
We love hearing from our players, so please get in touch with any feedback, positive or negative, at
https://support.ninjakiwi.com
.
Streamers and Video Creators:
Ninja Kiwi is actively promoting channel creators on YouTube and Twitch! If you are not already working with us, keep making videos and tell us about your channel at
[email protected]
.