This product is a brand new and unused Battle Fleet: Ground Assault CD Key for Steam.
Immediately after payment, you will be sent a unique and unused CD Key which can be activated on Steam. You can collect this activation code from our Autokey page.
Simply enter your code into the Steam client (available free from steampowered.com). This will then grant you to a full digital download of the game.
How does our website work?
CJS CD Keys sell brand new CD Keys either taken directly from brand new sealed copies of the game, or sourced directly from world-leading game publishers. We source our keys in bulk directly from leading distributors and publishers, which reduces shipping costs.
This enables us to offer instant online delivery, at extremely competitive pricing.
After you receive your key, you can activate the game on the Steam client (available free from steampowered.com). After you activate the game with the Steam software, you can download the game immediately and instantly.
Benefits of buying from CJS CD Keys:
Instant Delivery
NO payment fees
NO shield fees - we offer a money-back guarantee within the price!
BEST PRICES!
Region Free
This product key we are selling is sourced directly from the publisher, or an official distributor of the game publisher. The key is completely region free and includes all languages. Region free means that you can activate the product code from anywhere in the world.
About Battle Fleet: Ground Assault:
The Normandy invasion has started and it's time to move your battalions of tanks off the beaches and into the battlefields of Europe. You are in command of each tank, all the way down to the angle and power of each shot. Choose your shell type, aim by skill (not random values), move anywhere (no grids) and take on the armored machines of the Axis powers, or switch sides and defend fortress Europe from the Allied invasion.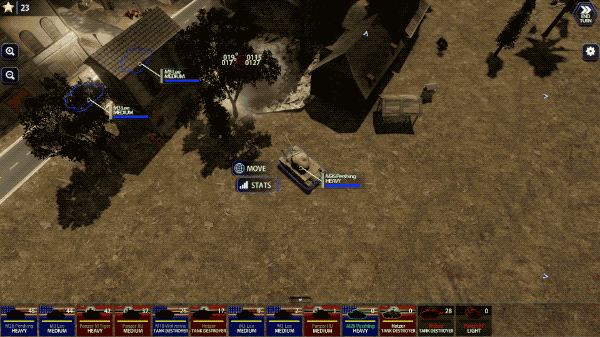 Battle Fleet: Ground Assault lands the Battle Fleet series onto the tank battlefields of World War 2. Continuing the strategy and unique "Worms" / "Scorched Earth" style angle+distance mechanic of Battle Fleet 2, Battle Fleet: Ground Assault adds destructible environments, armor, shell types and all new tactics. Hit their engines and cripple the enemy's maneuverability, or aim for the crew compartment and disable their tank for an entire turn. With a full featured campaign and a variety of single play scenarios, Battle Fleet: Ground Assault will make you feel like Patton charging through the German lines.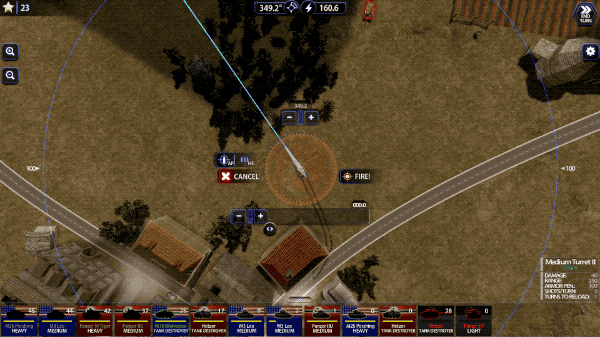 Feature List

Battle across the Western Europe campaign.

Build your army from 20 different tanks, each one unique to each faction, with different armor, guns, mobility, and hit locations.

No grids! You can move anywhere unlike most turn-based strategy games.

Choose between High Explosive or Armor Piercing shells to do the maximum damage to your enemy.

Aim for different sides of a tank to maximize your chance of penetrating their armor.

Utilize recon planes to reveal enemy locations or airstrikes to target dangerous tanks.

Tank commanders gain experience with each Campaign battle.

Play the strategic single player campaigns, random skirmish mode, full cross-platform multiplayer, or even hotseat multiplayer.

Use artillery to protect your lines in campaign battles.

Deploy Strategic Command Cards to surprise your enemies with special actions like deploying mines, sabotage, enhanced aiming, airstrikes and more!

Battle Fleet: Ground Assault features full 3D models of WW2 era tanks.

VR Support for HTC Vive, Oculus Rift and Windows Mixed Reality coming soon.
VR Support
Battle Fleet: Ground Assault will have full VR support (coming later in 2018) allowing you to play the entire game in VR and even battle against friends who are playing on desktop.