This product is a brand new and unused Ants! Mission of the salvation CD Key for Steam.
Immediately after payment, you will be sent a unique and unused CD Key which can be activated on Steam. You can collect this activation code from our Autokey page. Simply enter your code into the Steam client (available free from steampowered.com). This will then grant you to a full digital download of the game.
How does our website work?
CJS CD Keys sell brand new CD Keys either taken directly from brand new sealed copies of the game, or sourced directly from world-leading game publishers. We source our keys in bulk directly from leading distributors and publishers, which reduces shipping costs. This enables us to offer instant online delivery, at extremely competitive pricing.
After you receive your key, you can activate the game on the Steam client (available free from steampowered.com). After you activate the game with the Steam software, you can download the game immediately and instantly.
Benefits of buying from CJS CD Keys:
Instant Delivery
NO payment fees
NO shield fees - we offer a money-back guarantee within the price!
BEST PRICES!
Region Free
This product key we are selling is sourced directly from the publisher, or an official distributor of the game publisher. The key is completely region free and includes all languages. Region free means that you can activate the product code from anywhere in the world.
About Ants! Mission of the salvation:
Ants is an especially challenging game of skill where you have to solve diverse and interesting puzzles that can be solved by using the different tools you get on each stage. Note that each level has a unique solution and you will have to find it by using previous and current stage clues. A correct solution will lead you to the next level and so on until getting to a complete solution and finishing the game.

Inspired By Lemmings!





That morning there were no signs of trouble. Ants were working peacefully, when the storm suddenly rose and carried them far away.
Now, the ants have to find their way back home, through all obstacles and dangers.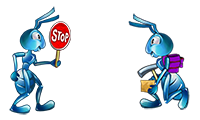 They have all the necessary equipment in order to:
- Climb the walls
- Sail through waters
- Build tunnels
- Skydive
- Dig the pits
- Run through mazes

But to get back home poor ants will need to use the equipment wisely. And now you are the only one who can help them.