This product is a brand new and unused Airport Madness 4 CD Key for Steam
This product is a unique and unused CD Key which can be activated on Steam. After your payment, you will be instantly sent a unique activation code by our automatic delivery system, called 'Autokey'. This unique activation code can be entered into the Steam client (available free from steampowered.com). This will then grant you to a full digital download of the game.
How does it work?
CJS CD Keys sell brand new CD Keys taken directly from brand new sealed copies of the game. We source our keys in bulk direct from major Distributors. After you receive your key, you can activate the game on the Steam client (available free from steampowered.com). After you activate the game with the Steam software, you can download the game immediately and instantly.
Region Lock
The game keys we are selling are sourced from the EU. They are completely region free and include all languages. This means that since this is a steamworks game, you can activate the key from anywhere in the world. There are absolutely no region locks.
About Airport Madness 4:
"You land a million planes safely. Then you have one little mid-air collision, and you never hear the end of it..." —Air Traffic Controller, New York TRACON, Westbury Long Island

You are a hot new Air Traffic Controller, eager to prove yourself and show off your skills to the world. Sure, you are brilliantly gifted. But are you safe? Can you handle real pressure? You are the world's last line of defense against inevitable air disaster! You are paid the big bucks for your visualization skills and guts. Just like the real job of an air traffic controller, you must pay attention and keep your eyes moving. There is always something that you should be doing. Give takeoff clearances, landing clearances and taxi clearances in a strategic effort to maintain safety and efficiency where there would otherwise be total chaos. This is not a spectator's sport! Can you hack it?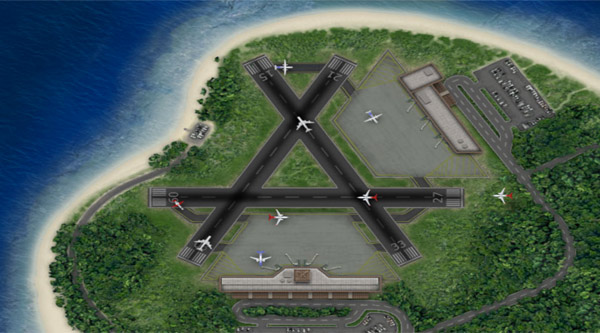 Air Traffic Control: The World's Most Stressful Job
Airport Madness 4 offers human pilot voices, bad weather, emergencies, aircraft carriers, plus a radar scope. Helicopters, float planes, F15 fighter jets, and space shuttles are just a few of the aircraft you will handle. It offers you 12 unique challenges, plus some very unusual activity at an 'Area 51' airport. This is a must-have game for any aviation enthusiast. It's incredibly simple to learn, yet insanely addictive and challenging. More than 100,000 copies of Airport Madness have been sold to date.
Choose from six unique airports, including a dozen different airport challenges. Our revamped physics engine offers smoother motion and more realistic aircraft behavior. The addition of several new aircraft will challenge your ability to recognize performance differences between different aircraft types, such as the Boeing 747, Airbus A380 and even the Concorde.
Real human pilot voices

6 awesome levels

Radar

Emergencies

Nasty weather

12 ridiculous challenges
Keep 'em separated!
Air Traffic Control is a talent. It's a skill that you are hopefully born with. Much like that of a heart surgeon, you take people's lives into your own hands when you are at the radar scope. Strive to keep the traffic moving, but don't let 'em hit. Push yourself to handle the traffic! Work quickly, but be cautious.
If you like this game, you must also try
Airport Madness: World Edition
on Steam!
http://store.steampowered.com/app/369290/