This product is a brand new and unused Against The Moon CD Key for Steam.
Immediately after payment, you will be sent a unique and unused CD Key which can be activated on Steam. You can collect this activation code from our Autokey page.  Simply enter your code into the Steam client (available free from steampowered.com). This will then grant you to a full digital download of the game.
How does our website work?
CJS CD Keys sell brand new CD Keys either taken directly from brand new sealed copies of the game, or sourced directly from world-leading game publishers. We source our keys in bulk directly from leading distributors and publishers, which reduces shipping costs.  This enables us to offer instant online delivery, at extremely competitive pricing.
After you receive your key, you can activate the game on the Steam client (available free from steampowered.com). After you activate the game with the Steam software, you can download the game immediately and instantly.
Benefits of buying from CJS CD Keys:
Instant Delivery
NO payment fees
NO shield fees - we offer a money-back guarantee within the price!
BEST PRICES!
Region Free
This product key we are selling is sourced directly from the publisher, or an official distributor of the game publisher. The key is completely region free and includes all languages. Region free means that you can activate the product code from anywhere in the world.
About Against The Moon: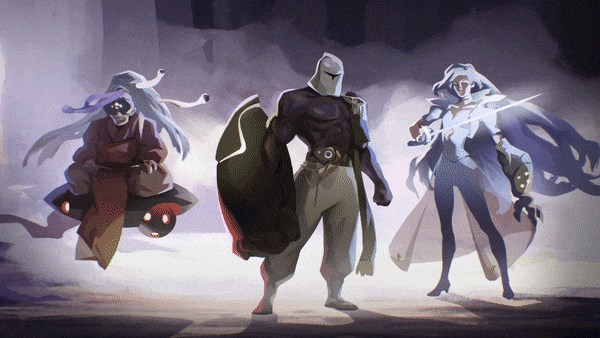 Featuring a bleak post-apocalyptic setting, Against The Moon mixes elements of popular trading card games like Slay the Spire, Hand of Fate and Talisman to create an epic strategy experience with a thrilling plot and unique visual style.

Having lost control of the planet to weird beasts of their own creation, humanity's last survivors took refuge in an ancient citadel. Now the superhuman Ultori represent mankind's last hope. Lead a squad of powerful Ultori to defeat the Furos, the nightmare creatures of the Moon, and restore humanity as the rightful rulers of Earth.

Craft your own deck, upgrade your cards and level up your characters to combat bizarre and dangerous opponents. Crush enemy bosses, build your forces and gather the resources you need to challenge the Moon itself!

May Great Mother Arx bless your mission. You are our only hope!
Features
Unique deckbuilding system

Against The Moon offers a new approach to deckbuilding: each card can evolve along two different paths, allowing you to adapt to your opponents' strategy. Keep an eye on your energy levels, and remember: the enemy is watching your every step.
Giant arsenal

Lead a squad of epic heroes – the Ultori. Each Ultori has unique abilities, weapons, and most importantly, their own units to lead into battle. Think strategically, outsmart your enemies with cunning traps, and finish them once and for all with your team's ultimates.
As beautiful as it is deadly

Immerse yourself in a unique post-apocalyptic world with dozens of atmospheric illustrations, and intense, vividly animated combat.
Something for everyone

While Against the Moon offers easy to learn game mechanics to entertain casual players, hardcore genre fans will also be challenged by special missions with unique rewards!
Epic sci-fi adventure

Enter a world where humanity has been left behind and explore the mysteries of the godlike Ancients. Uncover the origins of the strange and vicious beasts called Furos, and challenge the tyrant behind the invasion of Earth. Bring back the former glory of Arx, the last bastion of mankind.
New adventure each playthrough

The world of the future does not forgive mistakes. Beyond the walls of Arx, every decision could be your last. Combine mighty artifacts with a careful strategy and conquer the brutal wastelands.
Inspired by the classics

We've blended classic RPG concepts and modern game design for an engaging, challenging and fresh gameplay experience. Every easter egg and hidden detail adds to an adventure both new, and reminiscent of favorite games of the past.

https://store.steampowered.com/app/921800/Encased_A_SciFi_PostApocalyptic_RPG/
https://store.steampowered.com/app/783190/Sin_Slayers/
https://store.steampowered.com/app/760080/Hazardous_Space/