This product is a brand new and unused A Duel Hand Disaster: Trackher CD Key for Steam.
Immediately after payment, you will be sent a unique and unused CD Key which can be activated on Steam. You can collect this activation code from our Autokey page.
Simply enter your code into the Steam client (available free from steampowered.com). This will then grant you to a full digital download of the game.
How does our website work?
CJS CD Keys sell brand new CD Keys either taken directly from brand new sealed copies of the game, or sourced directly from world-leading game publishers. We source our keys in bulk directly from leading distributors and publishers, which reduces shipping costs.
This enables us to offer instant online delivery, at extremely competitive pricing.
After you receive your key, you can activate the game on the Steam client (available free from steampowered.com). After you activate the game with the Steam software, you can download the game immediately and instantly.
Benefits of buying from CJS CD Keys:
Instant Delivery
NO payment fees
NO shield fees - we offer a money-back guarantee within the price!
BEST PRICES!
Region Free
This product key we are selling is sourced directly from the publisher, or an official distributor of the game publisher. The key is completely region free and includes all languages. Region free means that you can activate the product code from anywhere in the world.
About A Duel Hand Disaster: Trackher:



THIS GAME IS DIFFICULT AND DOES NOT HOLD YOUR HAND AS YOU MIGHT EXPECT IT TO. PAY ATTENTION, PACE YOURSELF, AND TAKE YOUR TIME. IF YOU WANT TO LEARN THE MECHANICS THAT WILL STEP YO GAME UP WATCH THE VIDEOS ABOVE, OR JOIN THE DISCORD. THIS GAME DOES NOT SUPPORT KEYBOARD AND MOUSE. IT IS DESIGNED AROUND A GAMEPAD. IN THE MEANTIME YOUR OTHER OPTION IS TO REQUEST A REFUND. I WON'T GET MAD ;)

A Duel Hand Disaster: Trackher is the only split-screen single player twin stick risk 'em up in which your score is meaningless unless you exist. You control two ships simultaneously. Destroy the left to earn points, while recovering resources on the right to multiply those points. The left side does not take damage. The right side does. Above all you must extract with your score. Playing 'til death is not an option.

EXTRACT with your score and move on to the next Tier, or jump right back into the one you were on. You will now be able to wager part or all of your previous score, essentially creating a bucket of points that you can earn as a bonus. Choose wisely. Extracting before reaching the wager will mean the wager will become a penalty.





GAMEPLAY:
The screen is split with the HR-D on the left side (Assault) and the DF-R on the right side (Recovery). The HR-D DOES NOT take damage while the DF-R DOES. If the DF-R is destroyed the game is over, you wipe your score, and your leaderboard position if you die during the Sliver Bullet Bonus. Damage is permanent, however you do earn a bonus the lower your health is. Incentivize the risk, not the instinct to quit.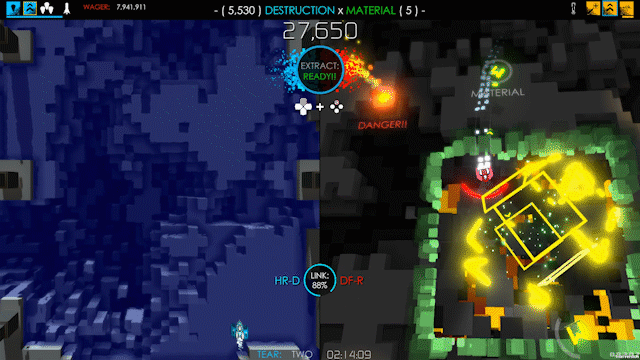 Assault Side: (DOES NOT TAKE DAMAGE | EARNS POINTS)

Moving and Shooting deteriorates the LINK between the HR-D and DF-R

PowerCells will upgrade the HR-D's rate of fire and unlock new weapons
WEAPONS/UPGRADES: (requires POWER CELLS)
Repeater (Hold Left Trigger)

Boost (Hold Left Bumper while moving)

ScatterShot (Single Tap Left Trigger)

Satan 2 (Double Tap Left Trigger)
Recovery Side: (DOES TAKE DAMAGE | RECOVERS RESOURCES THAT HELPS MULTIPLY POINTS)
Recover Material : your Assault Score will be multiplied by this amount on EXTRACTION

Material must be sacrificed to keep the LINK active between the HR-D and DF-R

Parts are required for EXTRACTION

Parts also unlock the DF-R's defenses
DEFENSES (requires PARTS)
B.F.P. (MultiTap Right Trigger)

Boost (Hold Right Bumper while moving)

Awareness Engine (Hold Right Trigger)

Time Directive (Hold Right Bumper)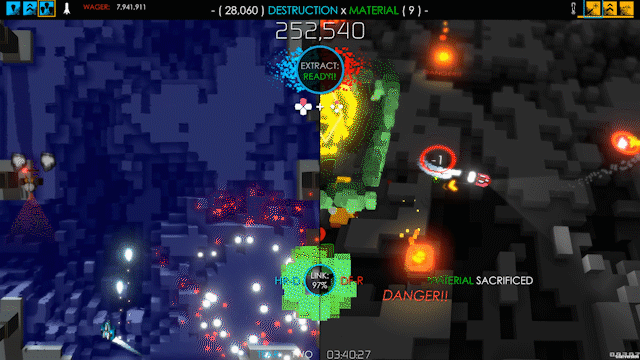 INTERCONNECTED:
MATERIAL management is crucial as it is also the final multiplier upon EXTRACTION

While the DF-R is recovering resources, not only does she not take damage, if the HR-D is destroying enemies you are multiplying your Destruction

In order to keep your score the LINK must be active and EXTRACTION must be at 100%

The HR-D must defend the entrance to the Zastrus Core otherwise the Trackers will come for the DF-R's resources and cause heavy damage

Activating the DF-R's shields will sacrifice MATERIAL, initiate a mulitiplier on the left, and must be kept active for shields to stay active

Boost with the DF-R and take less damage, if you are Boosting while shields are active you won't take any damage at all

Only the Repeater will chain the multiplier and keep the DF-R's shield active

Satan 2's can instantly extend or eradicate the multiplier. Pay attention to it's path

Killing a Tracker on the LEFT, will spawn Material on the Right, Recovering Material on the RIGHT will spawn an Upgrade on the LEFT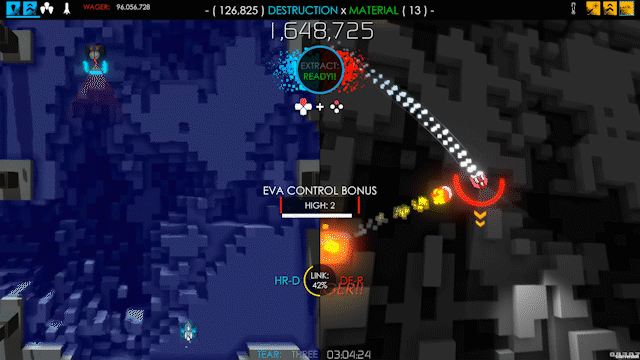 FEATURES:
Quick to pick up and play : no cutscenes

In-Game Leaderboards to show you the next person on your shit list ;)

Die = Wipe your score

Die during the Sliver Bullet Bonus = Wipe your LEADERBOARD position
[8]Die during BLOODY SUNDAY = Wipe of all your LEADERBOARD positions

Push your luck = Discount on Depends(tm) Undergarments