This product is a brand new and unused The Walking Dead: Saints & Sinners CD Key for Steam.
Immediately after payment, you will be sent a unique and unused CD Key which can be activated on Steam. You can collect this activation code from our Autokey page.
Simply enter your code into the Steam client (available free from steampowered.com). This will then grant you to a full digital download of the game.
How does our website work?
CJS CD Keys sell brand new CD Keys either taken directly from brand new sealed copies of the game, or sourced directly from world-leading game publishers. We source our keys in bulk directly from leading distributors and publishers, which reduces shipping costs.
This enables us to offer instant online delivery, at extremely competitive pricing.
After you receive your key, you can activate the game on the Steam client (available free from steampowered.com). After you activate the game with the Steam software, you can download the game immediately and instantly.
Benefits of buying from CJS CD Keys:
Instant Delivery
NO payment fees
NO shield fees - we offer a money-back guarantee within the price!
BEST PRICES!
EU Region
This product we are selling is sourced directly from the publisher, or an official distributor of the game publisher. The key is for the EU Region. Israel is not EU.
About The Walking Dead: Saints & Sinners: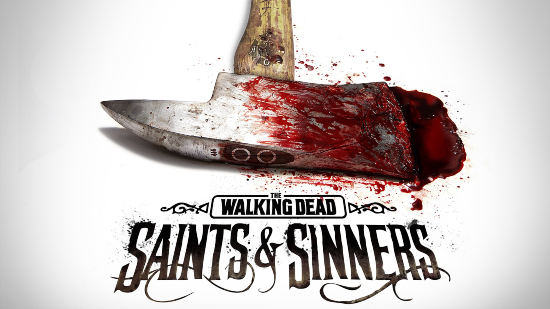 LIVE The Walking Dead
Saints & Sinners is a game unlike any other in The Walking Dead universe. Every challenge you face and decision you make is driven by YOU. Fight the undead, scavenge through the flooded ruins of New Orleans, and face gut-wrenching choices for you and the other survivors. Live The Walking Dead's dark drama in your own skin.​
Survive YOUR Way
A new way to live survival horror. With the living, dead, disease and famine as constant threats, you have countless ways to tackle these dangers.
Face the undead guns blazing or learn all the ways to sneak and hide among them.
Take on missions from different factions and survivors to earn valuable resources.
Risk life and limb to protect those in need or brutally murder anyone who stands in your way.
See how your choices affect the people of New Orleans, and learn to live with the consequences.
A New, Brutal Story
New Orleans is at war. The living are not just fighting the dead, but also inflicting pain and brutality upon each other. As bodies pile up between warring factions, whispers spread of a long-lost mystery in the city that could turn the tide of the war. Will you be able to survive while caught in the middle of this conflict? Can you unravel the mystery that is behind it all? The fate of the city and its survivors rests in your hands.​
A Vast World To Explore in VR
Crafting, exploration, freedom of choice and visceral combat make this a deep, 15+ hour game built for VR.
Cut down both the dead and the living with an arsenal of melee, ranged and makeshift weapons, all physics-based objects you can realistically wield.
Knock walker heads clear off and rip out weapons impaled in their skulls.
Creep through ruined streets and creole mansions to scavenge for supplies and secrets.
Scale the sides of buildings, cars, and walls to ambush enemies from above or make a quick escape.