This product is a brand new and unused Reach for the Sun CD Key for Steam.
Immediately after payment, you will be sent a unique and unused CD Key which can be activated on Steam. You can collect this activation code from our Autokey page. Simply enter your code into the Steam client (available free from steampowered.com). This will then grant you to a full digital download of the game.
How does our website work?
CJS CD Keys sell brand new CD Keys either taken directly from brand new sealed copies of the game, or sourced directly from world-leading game publishers. We source our keys in bulk directly from leading distributors and publishers, which reduces shipping costs. This enables us to offer instant online delivery, at extremely competitive pricing.
After you receive your key, you can activate the game on the Steam client (available free from steampowered.com). After you activate the game with the Steam software, you can download the game immediately and instantly.
Benefits of buying from CJS CD Keys:
Instant Delivery
NO payment fees
NO shield fees - we offer a money-back guarantee within the price!
BEST PRICES!
Region Free
This product key we are selling is sourced directly from the publisher, or an official distributor of the game publisher. The key is completely region free and includes all languages. Region free means that you can activate the product code from anywhere in the world.
About Reach for the Sun:
Version 1.2 Out Now!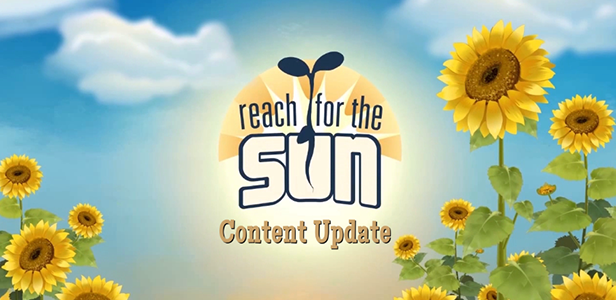 Strategy mode is now available on the plant selection screen
This mode uses a set number of turns with no time limit. Plants will automatically collect resources between turns. Keep your plant balanced and try to maximize your resources on every turn to fruit each flower before winter comes!


Players can now grow the prickly pear cactus
Cacti like the prickly pear have no leaves. Photosynthesis takes place in enlarged stems, requiring a slightly different approach to growing.


Bees!
We've added bees to replace the current pollen system. Creating nectar will now spawn a bee. Players must click and drag the bee onto a female flower to pollinate.
Description
Behind all those leaves, roots, and petals is an intelligent bio-machine of starch, nutrients, and water. Take over a flower's seedling to help it grow and reproduce before winter approaches. Carefully gather and manage three key resources needed to create flowers and fruits. You'll never look at these organisms the same way again!
Key Features
Learn about plant anatomy and function by controlling a plant's lifecycle for a year
Make strategic choices from limited resources and evaluate how it affects your plant
Maintain your plant's health against external influences such as winter weather
Create up to four different types of plants, each with unique attributes and challenges
Earn upgrades to enhance your garden, such as preying mantids to control pests