This product is a brand new and unused Project Wingman CD Key for Steam.
Immediately after payment, you will be sent a unique and unused CD Key which can be activated on Steam. You can collect this activation code from our Autokey page.  Simply enter your code into the Steam client (available free from steampowered.com). This will then grant you to a full digital download of the game.
How does our website work?
CJS CD Keys sell brand new CD Keys either taken directly from brand new sealed copies of the game, or sourced directly from world-leading game publishers. We source our keys in bulk directly from leading distributors and publishers, which reduces shipping costs.  This enables us to offer instant online delivery, at extremely competitive pricing.
After you receive your key, you can activate the game on the Steam client (available free from steampowered.com). After you activate the game with the Steam software, you can download the game immediately and instantly.
Benefits of buying from CJS CD Keys:
Instant Delivery
NO payment fees
NO shield fees - we offer a money-back guarantee within the price!
BEST PRICES!
Region Free
This product key we are selling is sourced directly from the publisher, or an official distributor of the game publisher. The key is completely region free and includes all languages. Region free means that you can activate the product code from anywhere in the world.
About Project Wingman:
Project Wingman is a combat flight action game with an emphasis on polished and refined gameplay, true-to-its-roots inspirations, and an engaging single player experience. Perfect for those who aren't looking for a simulator experience, with the ease of pick up and play, all the way to those who want a fast-paced challenging flight action game.

Dogfight, strike, and fly through combat zones based off an alternate history of Earth. Either over the cold waters of the Bering Strait, attacking tanks in the brutal environments of Yellowstone magma fields, or diving through the Redwoods to strike targets of opportunity in the Pacific Northwest, across the oceans, above the scarred lands of the world, this war will take you from exotic battlefield to exotic battlefield, all while going up against odds way above your pay grade.

Pure Combat Flight Action
Exotic weaponries such as railguns and geothermal-powered armaments will be ready to pluck you out of the sky if you're careless. Whether you are an attack aircraft pilot, skimming the ground with a gatling gun and rocket launchers attached to your wing, or an interceptor with long range, almost sniper-like missiles at your disposal, it will be up to you to prove yourself as an Ace pilot.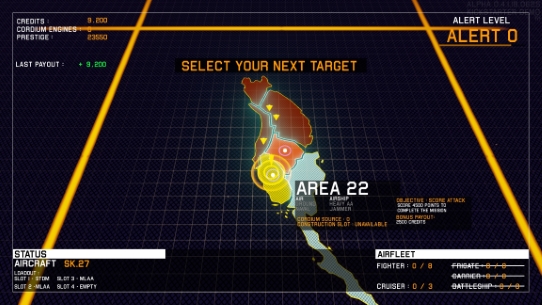 Conquest Mode
In Conquest Mode, fight in an uphill battle against various bosses and ace squadrons in a territory capture game, drawing elements from roguelikes and RPGs. Players will have to earn enough money to not only purchase new aircraft, but build a mercenary army of their own in order to take on waves of increasingly difficult opposition as they struggle to take on a myriad of changing missions.

Virtual Reality
Virtual Reality headsets will work in-game to put the player in the cockpit of aerial warfare, immersing themselves in head-swiveling combat. Combine this with full compatibility with HOTAS peripherals and custom axis curves, and you will be able to experience the game however you want, using any DirectInput supported peripheral you like.
Key Features:
Fly in varied and exciting scenarios and locations unlike you've ever seen before

Engaging single player campaign

Over 20 different aircraft and over 40 unique weapons at your disposal

Fight different kinds of adversaries such as giant mechanized fortresses and railgun cannons

Test your skills in Conquest mode and fight against hordes of adversaries

Want a different Conquest experience? - Adjust it with modifiers to your liking

Beautiful 3D Volumetric clouds rendered with TrueSKY

Fully rebindable controls and HOTAS compatibility with DirectInput support

VR Support