This product is a brand new and unused Hearts of Iron IV Cadet Edition CD Key for Steam..
Please note, this item does NOT work in Germany.
Please note, this item does NOT work in Australia.
We also offer COLONEL EDITION HERE!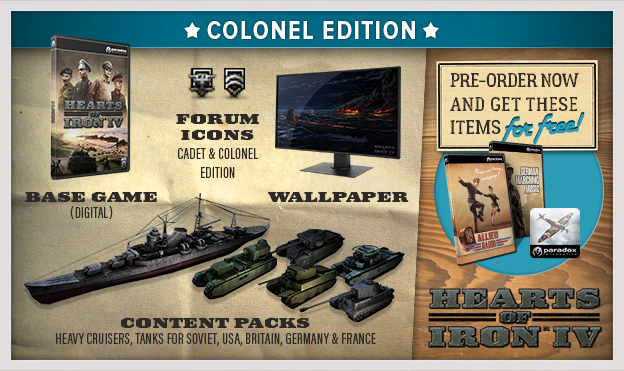 This product is a unique and unused CD Key which can be activated on Steam. After your payment, you will be instantly sent a unique activation code by our automatic delivery system, called 'Autokey'. This unique activation code can be entered into the Steam client (available free from steampowered.com). This will then grant you to a full digital download of the game.
How does it work?
CJS CD Keys sell brand new CD Keys taken directly from brand new sealed copies of the game. We source our keys in bulk direct from major Distributors. After you receive your key, you can activate the game on the Steam client (available free from steampowered.com). After you activate the game with the Steam software, you can download the game immediately and instantly.
Region Free
The game keys we are selling are sourced from the EU. They are completely region free and include all languages. This means that since this is a steamworks game, you can activate the key from anywhere in the world. There are absolutely no region locks.
About Hearts of Iron IV:
Victory is at your fingertips! Your ability to lead your nation is your supreme weapon, the strategy game Hearts of Iron IV lets you take command of any nation in World War II; the most engaging conflict in world history.

From the heart of the battlefield to the command center, you will guide your nation to glory and wage war, negotiate or invade. You hold the power to tip the very balance of WWII.

It is time to show your ability as the greatest military leader in the world. Will you relive or change history? Will you change the fate of the world by achieving victory at all costs?

Main Features
Total strategic war: War is not only won on land, sea and in the air. It's also achieved in the hearts and minds of men and women.
Authentic real-time war simulation: Let the greatest commanders of WW2 fight your war with the tools of the time; tanks, planes, ships, guns and newly discovered weapons of mass destruction.
Assume control of any nation: Choose from the greatest powers striving for victory, or the small nations trying to weather the storm.
Turn the world into your battlefield: Experience the full WWII timespan in a topographical map complete with seasons, weather and terrain. Snow, mud, storms can be both your strong ally and a ruthless enemy.
Negotiate or force your will: Experience the advanced politics and diplomacy systems, form factions, engage in trade for resources and appoint ministers to your party.
Intense Online Combat: Battle in both competitive and cooperative multiplayer for up to 32 players. Featuring cross-platform multiplayer.
Give your nation a unique edge: Experience the flexible technology system, where all major powers get their own unique identity. Develop detailed historic tanks and planes through research and army experience.