This product is a brand new and unused Dungeon Alchemist Account for Steam.
Immediately after payment, you will be sent a unique and unused Account which can be used on Steam. You can collect this activation code from our Autokey page.
FAQ about our Steam Accounts:
Simply enter your login details into the Steam client (available free from steampowered.com). This will then grant you to a full digital download of the game.
1. We acheive a low price for our customers by using a special VPN method to purchase the game from Steam at much cheaper regional pricing than can be found in Europe.  Once this process is completed, we sell the accounts on our website pre-loaded with the game.  The game works in all regions and languages.
2. We will also provide you with the login details to the email account mailbox associated with the Steam Account.  This is useful for 2-step authentication, email verification, etc.
3. Once you receive the account, you can change the account password to something private, and the password for the email account associated with it, add your phone number etc, to ensure the account is 100% exclusively owned by yourself and impossible for anyone else to have control over.
4. The account will have Dungeon Alchemist within the game library, so you can simply log in to the Steam Client and begin downloading!
How does our website work?
CJS CD Keys sell brand new products either taken directly from brand new sealed copies of the game, or sourced directly from world-leading game publishers. We source our keys in bulk directly from leading distributors and publishers, which reduces shipping costs.
This enables us to offer instant online delivery, at extremely competitive pricing.
After you receive your key, you can activate the game on the Steam client (available free from steampowered.com). After you activate the game with the Steam software, you can download the game immediately and instantly.
Benefits of buying from CJS CD Keys:
Instant Delivery
NO payment fees
NO shield fees - we offer a money-back guarantee within the price!
BEST PRICES!
Region Free
This account we are selling is sourced directly from the publisher, or an official distributor of the game publisher. The key is completely region free and includes all languages. Region free means that you can activate the product code from anywhere in the world.
About Dungeon Alchemist:
Ever felt uninspired, technically challenged or just bored when creating your game maps? Dungeon Alchemist is AI-powered Fantasy Game Mapmaking Software that enables you to make high-quality content fast! Simply pick a theme, start drawing, and Dungeon Alchemist creates high-quality maps you can print, share, or use in your favourite Virtual Tabletop Application. It uses an AI algorithm to place walls, floors, objects and lighting, so you can focus on being creative.


PICK A THEME
Dungeon Alchemist comes jam-packed full of exciting and inspiring objects and settings. Start your mapmaking adventure by picking one of our themes.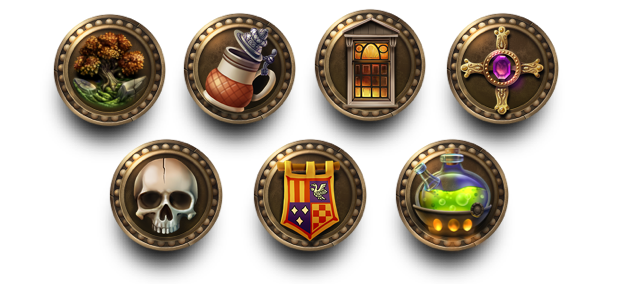 MAKE THE MAP OF YOUR DREAMS
With just a few clicks, Dungeon Alchemist will conjure a beautiful landscape that will inspire you and your players. You choose the theme of each room, and Dungeon Alchemist will do the rest. Don't like what you get? Just press the randomize button and Dungeon Alchemist's AI algorithm will generate ever new rooms for you.
TWEAK UNTIL IT'S JUST RIGHT
Once the AI algorithm has done its job, you can tweak the map to your heart's content. Add, scale, remove and rotate objects, move doors, change floor tiles and so much more!