This product is a brand new and unused The Jackbox Party Pack 8 CD Key for Steam.
Immediately after payment, you will be sent a unique and unused CD Key which can be activated on Steam. You can collect this activation code from our Autokey page.  Simply enter your code into the Steam client (available free from steampowered.com). This will then grant you to a full digital download of the game.
How does our website work?
CJS CD Keys sell brand new CD Keys either taken directly from brand new sealed copies of the game, or sourced directly from world-leading game publishers. We source our keys in bulk directly from leading distributors and publishers, which reduces shipping costs.  This enables us to offer instant online delivery, at extremely competitive pricing.
After you receive your key, you can activate the game on the Steam client (available free from steampowered.com). After you activate the game with the Steam software, you can download the game immediately and instantly.
Benefits of buying from CJS CD Keys:
Instant Delivery
NO payment fees
NO shield fees - we offer a money-back guarantee within the price!
BEST PRICES!
Region Choice:
This product we are selling is sourced directly from the publisher, or an official distributor of the game publisher. The key is available for a choice of regions. Please choose your correct region from the selection menu.
About The Jackbox Party Pack 8:
About The Jackbox Party Pack 8
The eighth installment of the beloved Jackbox Party Pack franchise is here! Five hilarious new games will energize your next game night, holiday party, happy hour, or video call.
No extra controllers needed - players use their phones or tablets to play along! Got a bigger group? Play with up to 10 players and up to 10,000 audience members.
The Jackbox Party Pack 8 is currently in English only. This game does not support online matchmaking but can still be enjoyed remotely using livestreaming services or video conferencing tools.
About Each Game
Drawful Animate
(3 -10 players) - It's alive! The guessing game with terrible drawings and hilariously wrong answers makes a dynamic return. In this revamped title, players create looping, two-frame animations based on weird and random titles.
.
The Wheel of Enormous Proportions
(2-8 players) - Trivia has never been so large! A fantastic, mystical wheel challenges you with a variety of trivia prompts. Winners are awarded slices of the Wheel's face with a chance to win big with each nail-biting spin. In the end, one player will have their most burning question answered by the great Wheel.
.
Job Job
(3-10 players) - Use other people's words to create unique and funny answers to classic job interview questions. Go head to head to see who scores the job!
.
The Poll Mine
(2-10 players) - A survey game that's all about YOU! Split into teams and see who can escape from the witch's lair! Players individually rank their choices to a difficult question, then must guess how the group answered as a whole. How well do you know your friends?!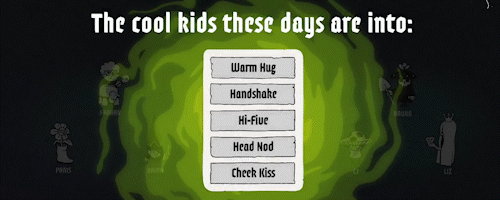 .
Weapons Drawn
(4-8 players) - A social deduction game where everyone is both a murderer and a detective. Players doodle all the clues, hiding a letter from their name in the weapon drawings. Can you solve murders while trying to get away with your own?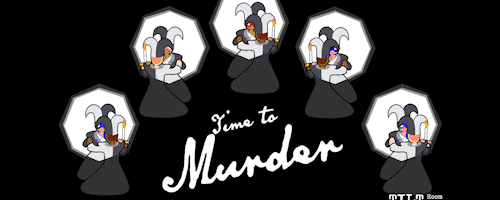 .