This is a genuine and brand new Simcity Limited Edition CD Key / Serial for Origin. Delivery via our online collection system - Autokey.
The following versions are available:
Standard Edition English Only
This is SimCity Standard Edition, which you can install in only the English language.
Standard Edition Multi-Language
This is SimCity Standard Edition, which you can install in English, French, German, Spanish, Czech, Polish, Danish, Italian, Russian, and many more)
Limited Edition Multi-Language:
This is SimCity Limited Edition, which you can install in English, French, German, Spanish, Czech, Polish, Danish, Italian, Russian, and many more)
Standard Edition Polish / Russian / Hungarian:
This is SimCity Standard Edition, which can ONLY BE INSTALLED in Russian, Polish, or Hungarian. English is not available on this version. This version is non-refundable.
You can view a tutorial detailing how to change the Russian version of SimCity into english here:
How to get the Russian version of SimCity to function in English (Includes English Language Pack Download Links)
Additional DLC Available:
We are also selling the awesome European City Set packs for SimCity! Why not add these to your purchase and get even more enjoyment from your game!
We offer the following city sets:
How to Activate and Download Simcity Limited Edition CD Keys:
Once you purchase the game, simply head over to our Autokey system and collect your activation code. Then, go to origin.com and enter your activation code into the Origin client, available free HERE.
Once you've installed the Origin client, launch it and log into an account (or create a new one). Then, press 'Redeem Code'. Enter your Simcity Serial Code into the Origin client. It will then grant you to a full digital download of the game! Enjoy!
Watch Our Video to find out how easy our purchase process is:
Regions Supported:
The Simcity CD Keys that we sell are totally Region Free. This means that no matter what country you are from, our keycodes for SimCity will work for you. They function worldwide.
Delivery Information:
After purchase, you can go to cjs-cdkeys.com/autokey and collect your purchased activation codes. After this, you can go to activate.ea.com or to the Origin client, and enter the code to activate your game! After activating your key with Origin, you will be granted access to a digital download (legal, straight from EA) of the game, which you can download. Once downloaded, you can play!
How To Activate Your SimCity CD Key:
First, collect your code from our Autokey system and activate your product key on Origin: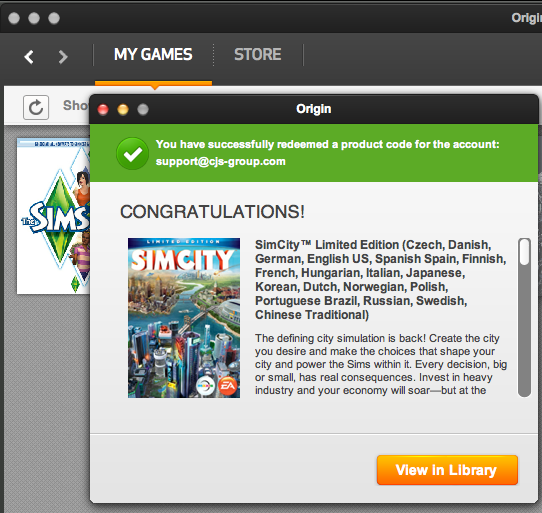 Then, Origin will download the game launcher. The game launcher will automatically download, install, and update your game.
About the Game:
Power to Change a World Together
The defining city simulation is back! Create the city you desire and make the choices that shape your city and power the Sims within it. Every decision, big or small, has real consequences. Invest in heavy industry and your economy will soar—but at the expense of your Sims' health as pollution spreads. Implement green technology and improve your Sims' lives while risking higher taxes and unemployment. Team up with your friends to solve global challenges: launch a space shuttle, reduce carbon emissions, or build magnificent wonders. Compete on global and regional leaderboards to be the richest, the dirtiest, the happiest or the best place to visit!
KEY FEATURES:
Constructible Worlds - Creative and customizable world that offers unique gameplay benefits, all with a fun tactile interface.
Sims Matter - The Sims in your city speak to you directly and it's up to you to respond to their needs. Will you listen and be the toast of the town? Or abuse your power for fame and fortune?
Specialize in What You Love - Mold your city as a casino resort, manufacturing hub, educational enclave, and more, and then watch as a unique look and feel spread throughout your city.
Multiplayer - Build a region with friends for the first time! Collaborate or compete in regional and global challenges and make decisions that impact the greater SimCity World.
GlassBox Engine - SimCity introduces GlassBox, the revolutionary simulation technology that gives you the power to impact individual Sims lives, manage city level simulation, and balance multiple city simulations at once.
LIMITED EDITION BONUS CONTENT:
New Characters - Protector of SimCity MaxisMan vs. The Evil Dr. Vu and his henchman.
Crime Waves -The Evil Dr. Vu is loose and will create havoc in your city. Normal police have their hands full against this Super Villain. The Evil Dr. Vu will solicit Sims to become his henchmen and carry out his dastardly deeds.
Super Hero HQ - Place MaxisMan's headquarters in your city to combat crime and keep your Sims safe. Upgrade with the Turbo Machine garage and The Reticulator landing pad.
Evil Villain Lair - Place Dr. Vu's Lair in your city to unleash a crime wave. As The Evil Dr. Vu commits more crimes, upgrade his lair with a special laboratory and a garage for the Evil VuMobile
Page Created by CJS.