This product is a brand new and unused Divinity: Original Sin 2 Definitive Edition CD Key for activation on GOG.com.  Once activated, you will be granted to a full download of the game.
This product is a unique and unused CD Key which can be activated on GOG.com.  After your payment, you will be instantly sent a unique activation code by our automatic delivery system, called 'Autokey'.
This unique activation code can be entered into the GOG website (see activation instructions below).  This will then grant you to a full digital download of the game.
How does it work?
CJS CD Keys sell brand new CD Keys for the latest games.  We source our keys in bulk direct from major distributors.  After you receive your key, you can activate the game on the GOG client, or on the GOG.com website.
How To Redeem Your CD Key:
Please visit GOG.com and activate your key.  You can redeem your code HERE.
Region Free
The game keys we are selling are sourced from the EU.  They are completely region free and include all languages. This means that you can activate the key from anywhere in the world.  There are absolutely no region locks.
About Divinity: Original Sin 2 Definitive Edition: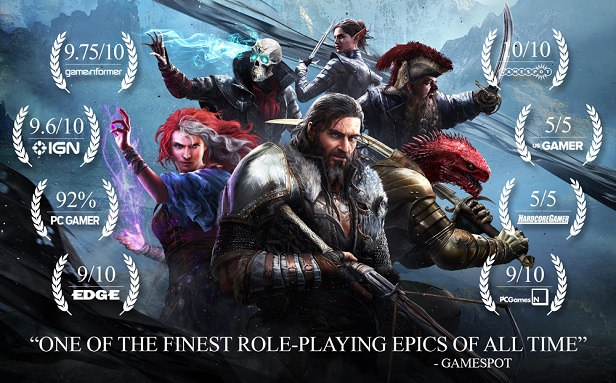 The Divine is dead. The Void approaches. And the powers lying dormant within you are soon to awaken. The battle for Divinity has begun. Choose wisely and trust sparingly; darkness lurks within every heart.


Who will you be?
A flesh-eating Elf, an Imperial Lizard or an Undead, risen from the grave? Discover how the world reacts differently to who - or what - you are.
It's time for a new Divinity!
Gather your party and develop relationships with your companions. Blast your opponents in deep, tactical, turn-based combat. Use the environment as a weapon, use height to your advantage, and manipulate the elements themselves to seal your victory.
Ascend as the god that Rivellon so desperately needs.
Explore the vast and layered world of Rivellon alone or in a party of up to 4 players in drop-in/drop-out cooperative play. Go anywhere, unleash your imagination, and explore endless ways to interact with the world. Beyond Rivellon, there's more to explore in the brand-new PvP and Game Master modes.

Choose your race and origin. Choose from 6 unique origin characters with their own backgrounds and quests, or create your own as a Human, Lizard, Elf, Dwarf, or Undead. All choices have consequences.


Unlimited freedom to explore and experiment. Go anywhere, talk to anyone, and interact with everything! Kill any NPC without sacrificing your progress, and speak to every animal. Even ghosts might be hiding a secret or two…


The next generation of turn-based combat. Blast your opponents with elemental combinations. Use height to your advantage. Master over 200 skills in 12 skill schools. But beware - the game's AI 2.0 is our most devious invention to date.


Up to 4 player online and split-screen multiplayer. Play with your friends online or in local split-screen with full controller support.


Game Master Mode: Take your adventures to the next level and craft your own stories with the Game Master Mode. Download fan-made campaigns and mods from Steam Workshop.