This product is a brand new and unused Deadside CD Key for Steam.
Immediately after payment, you will be sent a unique and unused CD Key which can be activated on Steam. You can collect this activation code from our Autokey page.  Simply enter your code into the Steam client (available free from steampowered.com). This will then grant you to a full digital download of the game.
How does our website work?
CJS CD Keys sell brand new CD Keys either taken directly from brand new sealed copies of the game, or sourced directly from world-leading game publishers. We source our keys in bulk directly from leading distributors and publishers, which reduces shipping costs.  This enables us to offer instant online delivery, at extremely competitive pricing.
After you receive your key, you can activate the game on the Steam client (available free from steampowered.com). After you activate the game with the Steam software, you can download the game immediately and instantly.
Benefits of buying from CJS CD Keys:
Instant Delivery
NO payment fees
NO shield fees - we offer a money-back guarantee within the price!
BEST PRICES!
Region Choice:
This product we are selling is sourced directly from the publisher, or an official distributor of the game publisher. The key is available for a choice of regions. Please choose your correct region from the selection menu.
About Deadside:
Deadside is a hardcore multiplayer shooter with large open world and wide gameplay possibilities. Deadside gets you into realistic game environment full of hopelessness and despair. It tries to keep balance between the dynamics of the shooter and the hardcoreness of "survival" gameplay. The world of the game does not imply the existence of fantastic elements like zombies or anomalies, concentrating the player's attention on realistic aspects of life on the ruins of the dead civilization.
DEADSIDE WORLD
The world of Deadside is vast open spaces full of bushy forests and abandoned settlements. Players will have an area of ​​about 225 sq.km., entangled by a network of roads and rivers (in early access the territory of the game world will be limited to an area of 25 sq.km.)
In addition to players, the game world is inhabited by various hostile and friendly NPCs. Going through the forest, you can face a gang of cannibals just about to eat lunch. Or a group of wanderers trying to survive in a hostile environment. The results of these meetings are completely dependent on your decisions and ability to get those decisions to life. Or death.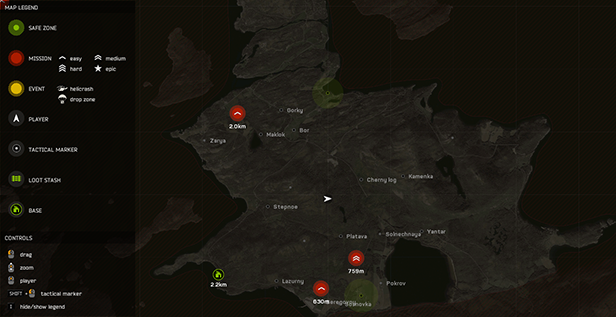 MISSIONS
It's a big world and in order to avoid getting lost and to keep themselves busy, players can use the map to see where in the world armed bandits are raiding, areas being cleared by security forces remains loyal to the ex-government or cannibals settling in abandoned villages. Anyone can take part in mass combat. It will not be an event with a limited number of players, anyone who wishes can go to the mission sector and affect the outcome of the battle. Battles with participation of NPC and players can continue for hours but the reward will go to the one who can seize the prize loot after the mission is completed.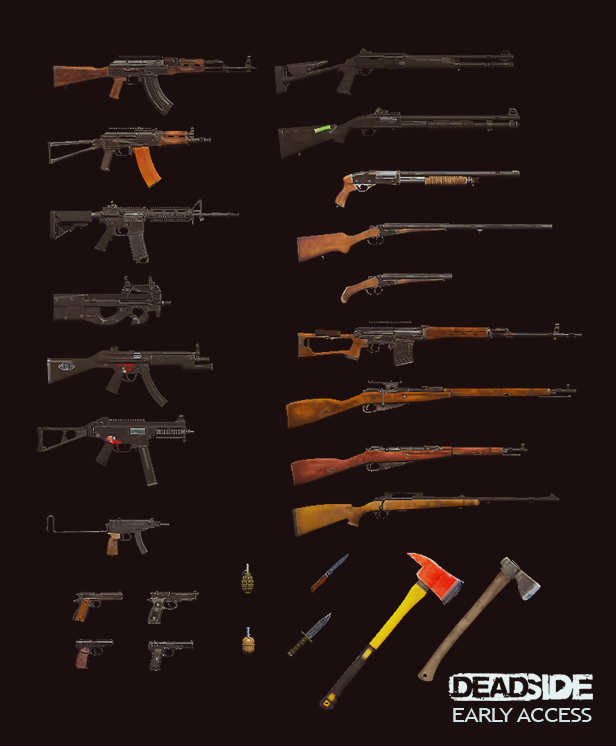 WEAPONS
The main features of our combat system are realistic ballistics and hardcore weapon damage.
To protect their interests or piss off the other players, about 19 types of firearms and additional equipment (sights, flashlights, etc.) will be available (at the time of early access).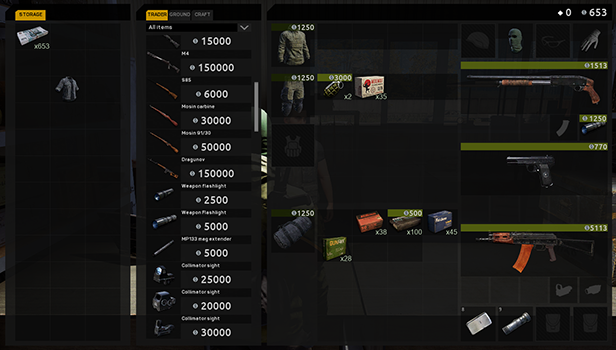 TRADE and "SAFE ZONES"
Among endless vast wastelands a wanderer will find places where they can buy bullets, food and chit-chat to the damned victims about life, the universe and everything. Maybe swap a story or two about hunting cannibals. Also, there are private lockers for players in Green Zones where they can keep a limited number of things they use for surviving. Green Zones will be places of trade and communication between players and friendly NPC traders.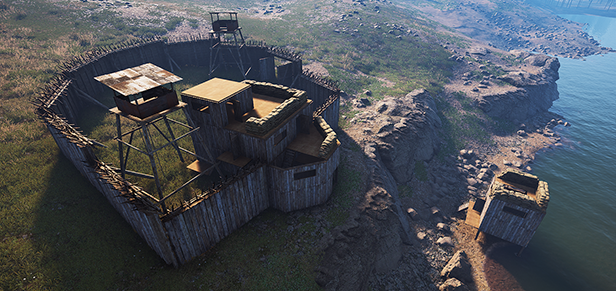 BASE BUILDING
Simple yet effective craft system will let players to build bases and use them as shelters and to store hard-earned weapon and equipment. At the Early Access stages bases will be invulnerable, but later we're planning to implement a raiding system.
Players also will have the ability to craft small stashes and hide them almost anywhere in the world to keep a few handy things at the ready.