This product is a brand new and unused Creed: Rise to Glory CD Key for Steam.
Immediately after payment, you will be sent a unique and unused CD Key which can be activated on Steam. You can collect this activation code from our Autokey page.
Simply enter your code into the Steam client (available free from steampowered.com). This will then grant you to a full digital download of the game.
How does our website work?
CJS CD Keys sell brand new CD Keys either taken directly from brand new sealed copies of the game, or sourced directly from world-leading game publishers. We source our keys in bulk directly from leading distributors and publishers, which reduces shipping costs.
This enables us to offer instant online delivery, at extremely competitive pricing.
After you receive your key, you can activate the game on the Steam client (available free from steampowered.com). After you activate the game with the Steam software, you can download the game immediately and instantly.
Benefits of buying from CJS CD Keys:
Instant Delivery
NO payment fees
NO shield fees - we offer a money-back guarantee within the price!
BEST PRICES!
Region Free
This product key we are selling is sourced directly from the publisher, or an official distributor of the game publisher. The key is completely region free and includes all languages. Region free means that you can activate the product code from anywhere in the world.
About Creed: Rise to Glory:
Train. Fight. Win.
Got what it takes to become a champion? You are Adonis Creed, fighting toe-to-toe with the world's top opponents to establish your boxing legacy. This intense cinematic experience features new Phantom Melee Technology for impactful VR melee combat so you can train, fight, and win like Creed.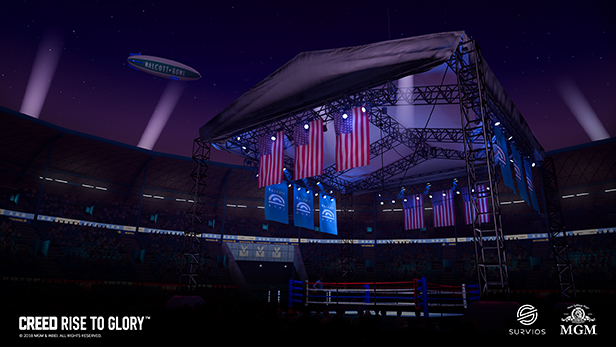 PC Timed Exclusive Environment: Walcott Bowl
When you just feel like a fight head to Freeplay and choose any location, including the PC timed exclusive Walcott Bowl arena.

Live Your Legacy
Challenge both your body and mind as you experience the ascent of Adonis Creed from undiscovered underdog to world-class fighter, all within an immersive universe inspired by the Creed™ films. Train with the legendary Rocky Balboa in iconic gyms, including Mighty Mick's and Front Street Gym, then step into the spotlight and take down a cast of champion-level opponents in high-stakes fights with reactive commentators, gritty visual effects, and dynamic music.

Play Your Way
Multiple game modes let you choose your path to glory. Live the saga of Adonis Creed in the story-based Career mode, learning and growing alongside Rocky as you train for bigger and more prestigious championship fights. Want to polish your punches and sharpen your reaction time? Let Training mode get you in shape with montage-inspired endurance exercises. And when you just feel like a fight, create custom matches in Freeplay against a wide range of opponents.

Settle the Score
PvP just got a lot more personal. Choose your champion, then set up a custom fight with a friend or find your contenders in crossplay Quick Match. Precise upper-body tracking ensures each blow resonates where it lands—on both your opponent and yourself.

Feel the Impact
Physically active 1:1 boxing gameplay features Survios's newest proprietary VR innovation: Phantom Melee Technology™, which utilizes Responsive Control and Virtual Stamina to mimic the real-life effects of punching and being hit in the ring. Throw a variety of punches like uppercuts, jabs, and flurries in satisfying, impactful combat. But don't let your guard down: punch too much and you'll suffer from fatigue, and always be prepared to dodge and defend against incoming blows. Too many hits will stagger or completely knock out of your body—race back to your avatar before the ref counts down to show that the fight's far from over.