This product is a brand new and unused Conqueror's Blade - Order of Chivalry Collector's Pack CD Key for Steam.
Immediately after payment, you will be sent a unique and unused CD Key which can be activated on Steam. You can collect this activation code from our Autokey page.? Simply enter your code into the Steam client (available free from steampowered.com). This will then grant you to a full digital download of the game.
How does our website work?
CJS CD Keys sell brand new CD Keys either taken directly from brand new sealed copies of the game, or sourced directly from world-leading game publishers. We source our keys in bulk directly from leading distributors and publishers, which reduces shipping costs.? This enables us to offer instant online delivery, at extremely competitive pricing.
After you receive your key, you can activate the game on the Steam client (available free from steampowered.com). After you activate the game with the Steam software, you can download the game immediately and instantly.
Benefits of buying from CJS CD Keys:
Instant Delivery
NO payment fees
NO shield fees - we offer a money-back guarantee within the price!
BEST PRICES!
Region Free
This product key we are selling is sourced directly from the publisher, or an official distributor of the game publisher. The key is completely region free and includes all languages. Region free means that you can activate the product code from anywhere in the world.
About Conqueror's Blade - Order of Chivalry Collector's Pack:
About This Content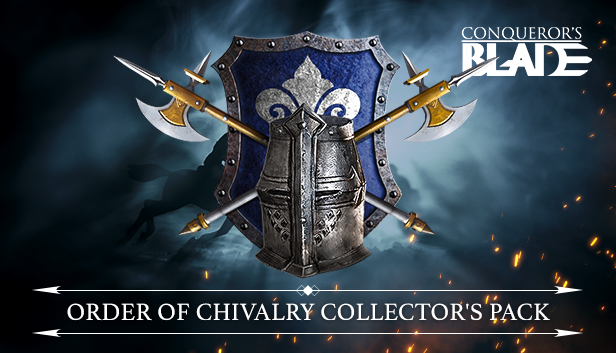 Raise your sword to the sky, and ride for conquest and glory with the Order of Chivalry Collector's Pack! Equip the Overlord Set to give your poleaxe-wielding warlord the noble look of the ultimate warrior. You'll also get Knights Attire for cavalry units, noble horse armor, a massive 90-day Premium subscription, and 50,000 Silver.
The Order of Chivalry Collector's Pack contains:
Overlord Attire Set: Only the mightiest warriors are worthy of this armor. Comes with the Overlord Greathelm, Overlord Coat of Plate, Overlord Gauntlets, and Overlord Boots.

Knights Unit Attire: Prepare your cavalry units for battle with this chivalric armor!

90-day Premium Account: Earn experience faster, and unlock other unique privileges!

Horse Armor: Give your steed a knightly set of armor, complete with a sharp horn.

50,000 Silver: Plenty of currency to kickstart your military career!
Get the Order of Chivalry Collector's Pack and start writing your legend in Conqueror's Blade today!
IMPORTANT:
Some items within the Collector's Packs (such as Premium time) are account-wide and will benefit all your active characters throughout their duration. Other items (including warlord, unit, and mount skins) will be permanently bound to a single character when used. These items will be deposited in a special web inventory, from which they can be transferred to active characters. Once transferred, the item cannot be used by another character or account. If you delete a character to which you have transferred an item, that item will be lost.
To assign your new items to your characters in Conqueror's Blade,
head over to your web inventory and sign in with your Conqueror's Blade account
! You can also check out a full guide to the transfer process
here
.