This product is a brand new and unused Automation - The Car Company Tycoon Game Account for Steam.
Immediately after payment, you will be sent a unique and unused Account which can be used on Steam. You can collect this activation code from our Autokey page.
FAQ about our Steam Accounts:
Simply enter your login details into the Steam client (available free from steampowered.com). This will then grant you to a full digital download of the game.
1. We acheive a low price for our customers by using a special VPN method to purchase the game from Steam at much cheaper regional pricing than can be found in Europe.  Once this process is completed, we sell the accounts on our website pre-loaded with the game.  The game works in all regions and languages.
2. We will also provide you with the login details to the email account mailbox associated with the Steam Account.  This is useful for 2-step authentication, email verification, etc.
3. Once you receive the account, you can change the account password to something private, and the password for the email account associated with it, add your phone number etc, to ensure the account is 100% exclusively owned by yourself and impossible for anyone else to have control over.
4. The account will have Automation - The Car Company Tycoon Game within the game library, so you can simply log in to the Steam Client and begin downloading!
How does our website work?
CJS CD Keys sell brand new products either taken directly from brand new sealed copies of the game, or sourced directly from world-leading game publishers. We source our keys in bulk directly from leading distributors and publishers, which reduces shipping costs.
This enables us to offer instant online delivery, at extremely competitive pricing.
After you receive your key, you can activate the game on the Steam client (available free from steampowered.com). After you activate the game with the Steam software, you can download the game immediately and instantly.
Benefits of buying from CJS CD Keys:
Instant Delivery
NO payment fees
NO shield fees - we offer a money-back guarantee within the price!
BEST PRICES!
Region Free
This account we are selling is sourced directly from the publisher, or an official distributor of the game publisher. The key is completely region free and includes all languages. Region free means that you can activate the product code from anywhere in the world.
About Automation - The Car Company Tycoon Game:
Design the cars of your dreams, and build an automotive business empire with them! Choose to make cars that evoke excitement and set the imagination alight, or cars that are the literal wheels the world's economy rolls upon; with Automation, the possibilities are limited only by your imagination!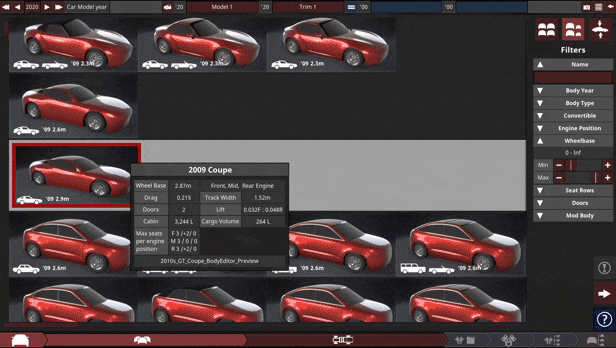 Automation is an automotive design simulator, featuring vehicles and technologies from 1946 to 2020. Use Automation's unparalleled engine and car design tools to create your perfect car, then build and market them to a car-hungry public in the Campaign Mode! Export your creations to BeamNG.drive (sold separately) with the one-click export tool and share them with others, or experience them for yourself on the road and on track!
Realise your dreams with one-of-a-kind car design tools.
In Automation, players use the comprehensive engine and car design tools to turn their ideas into reality; shape, cut, re-shape and adorn thousands of car bodies with a wide variety of lights, mouldings and other parts to achieve the style you want. Design the perfect engine to go in your car; whether it is a large, powerful V12 or a small, efficient inline-3, nearly all common engine layouts are possible!
Test your business skills by selling your designs in Campaign Mode.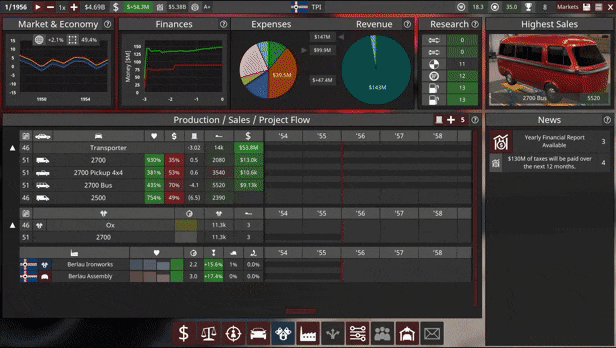 Automation's Campaign Mode starts in 1946, where players test their design skills in a deep simulation of the automotive industry. Build factories and equip them with the facilities and equipment they need, and research cutting-edge technologies to turn your fledgling company into a titan of the industry, by catering to the needs and desires of dynamically-simulated market demographics.
Export your cars to BeamNG.drive.
Export your creations to BeamNG.drive (sold separately) with Automation's easy-to-use car exporter to drive, race and crash them yourself!
Compare your lap times against Automation's AI and your friends in BeamNG.drive with the co-developed Automation Test Track featured in both games, and share your creations in the BeamNG.drive Mod Repository.
Participate in Automation's passionate and active community.
Automation has a large community of 3D modellers creating mod content for the game, with hundreds of free mods available on the Steam Workshop, and more being added every day. Additionally, the Automation community runs a wide variety of exciting, community-designed and led competitions, where cars are evaluated on styling, performance and other traits. Build a car and join the community today, to see how your creations measure up against your new friends!