This product is a brand new and unused Warhammer 40,000: Eternal Crusade CD Key for Steam.
This product is a unique and unused CD Key which can be activated on Steam. After your payment, you will be instantly sent a unique activation code by our automatic delivery system, called 'Autokey'. This unique activation code can be entered into the Steam client (available free from steampowered.com). This will then grant you to a full digital download of the game.
How does it work?
CJS CD Keys sell brand new CD Keys taken directly from brand new sealed copies of the game. We source our keys in bulk direct from major Distributors. After you receive your key, you can activate the game on the Steam client (available free from steampowered.com). After you activate the game with the Steam software, you can download the game immediately and instantly.
Region Free
The game keys we are selling are sourced from the EU. They are completely region free and include all languages. This means that since this is a steamworks game, you can activate the key from anywhere in the world. There are absolutely no region locks.
About Warhammer 40,000: Eternal Crusade:
War calls. Will you answer?

For the first time, join your favorite factions in the fiercest and most authentic Warhammer 40,000 battles ever realized in a shooting videogame.

Select one of four factions of the 41st millennium and fight for control of a persistent world at war. As you fight your way across the planet, claim territory in massive battles and earn the right to customize and improve your characters in a deep progression system from Warhammer 40,000 lore

This is Early Access, focusing mainly on the core combat experience and does not contain the MMO elements yet. This is Alpha stage and we update frequently. Click Read More to see the full game at launch.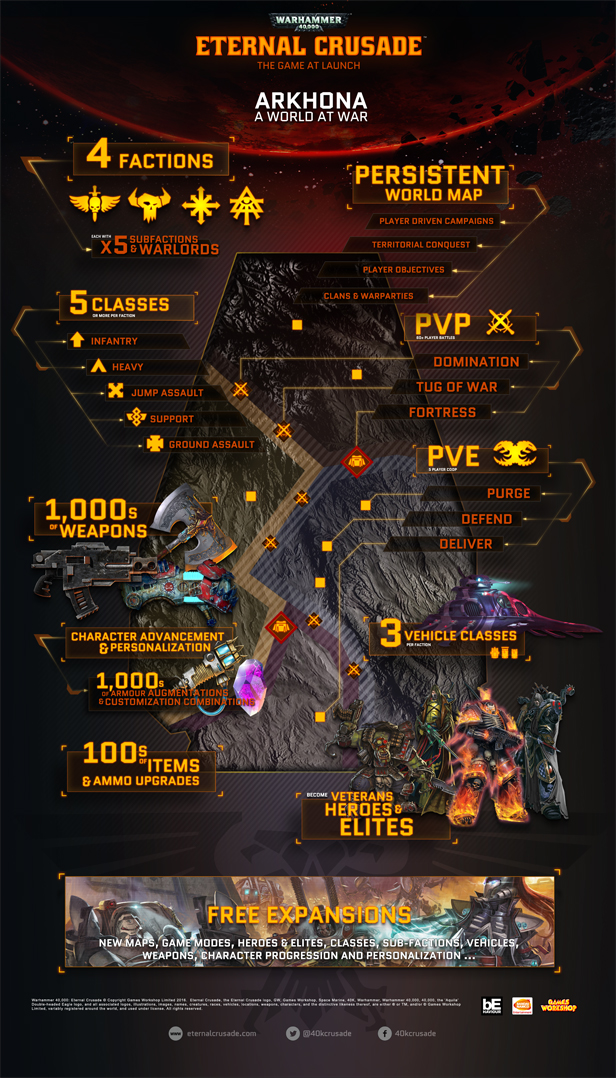 Engage in massive battles
Take part in massive military campaigns between 4 factions for the conquest of a persistent world. Dive into the shifting frontlines and crush your foes! Engage in melee, take to the air with a jump pack or fire into the fray from one of the turrets of a fully armed Predator tank. Combat in Eternal Crusade ranges from a personal clashing of Chainswords to truly epic warfare.
Your faction is your family now
Victory is not a thing for a single warrior to claim. Whether you're in PVP or PVE, your squad must work together to overcome constant resistance in their quest for glory. Face death side-by-side with your brothers as you defend strongholds or delve into the Underworld to cooperatively combat alien hordes of Tyranids.
Choose your allegiances and background
Pick between twenty different sub-factions, then earn hundreds of weapons and accessories drawn from 29 years of Warhammer 40,000 lore to craft your perfect warrior.