This product is a brand new and unused Tiny Tina's Wonderlands: Season Pass CD Key for Steam.
Immediately after payment, you will be sent a unique and unused CD Key which can be activated on Steam. You can collect this activation code from our Autokey page.  Simply enter your code into the Steam client (available free from steampowered.com). This will then grant you to a full digital download of the game.
How does our website work?
CJS CD Keys sell brand new CD Keys either taken directly from brand new sealed copies of the game, or sourced directly from world-leading game publishers. We source our keys in bulk directly from leading distributors and publishers, which reduces shipping costs.  This enables us to offer instant online delivery, at extremely competitive pricing.
After you receive your key, you can activate the game on the Steam client (available free from steampowered.com). After you activate the game with the Steam software, you can download the game immediately and instantly.
Benefits of buying from CJS CD Keys:
Instant Delivery
NO payment fees
NO shield fees - we offer a money-back guarantee within the price!
BEST PRICES!
Region Free
This product key we are selling is sourced directly from the publisher, or an official distributor of the game publisher. The key is completely region free and includes all languages. Region free means that you can activate the product code from anywhere in the world.
About Tiny Tina's Wonderlands: Season Pass:
About This Content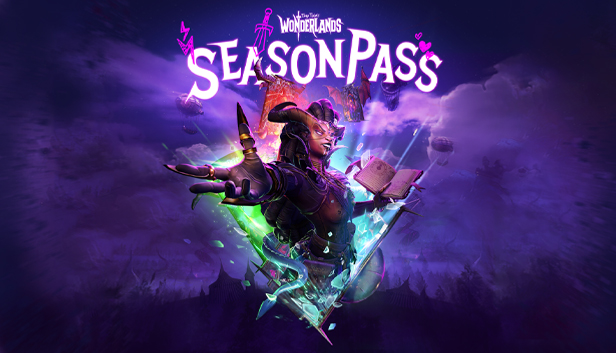 Build a powerful new class and take on outlandish challenges with the Tiny Tina's Wonderlands Season Pass! Delve into the Mirrors of Mystery, four distinct dungeons with formidable, form-changing bosses. Master the elements with the new Blightcaller class and discover all-new loot while rocking the cosmetics of the Butt Stallion Pack!
Travel to the Dreamveil Overlook where you'll meet the enigmatic Vesper, your guide to four mysterious tales of woe. Journey through her Mirrors of Mystery and visit new realms guarded by fearsome bosses with increasingly difficult forms. Vanquishing them will net you Legendary weapons and gear, as well as unique cosmetics—and completing a dungeon adds its contents to the pool of possibilities in the Chaos Chamber, the endlessly replayable endgame of Tiny Tina's Wonderlands!
Create even more Multiclass combinations with the new Blightcaller class, an elementalist with a unique talent tree and two fresh Action Skills.
Fight your way through four replayable dungeons, featuring new boss encounters with scaling difficulty and optional challenges:
-Free "Chums" the Old God from his fleshy prison in Coiled Captors
-Defeat Imelda the Sand Witch and her cauldron of culinary chaos in Glutton's Gamble
-Demolish Fyodor the Soul Warden's murderous mechanized defenses in Molten Mirrors
-Bring down Redmourne the Trivern and help Vesper escape her past in Shattering Spectreglass
Collect 100+ new Legendary weapons, gear, and cosmetic items!
Expand the pool of randomized content and rewards in the Chaos Chamber endgame mode!
Flaunt the cosmetics included in the Butt Stallion Pack:
-Diamond Guard Armor Presets (3 items)
-Crystal Glitter Makeup Pack (5 items)
-Adamant Throne Banner Set (2 items)
-Diamond Hero Statue Material