This product is a brand new and unused Strikers Edge CD Key for Steam.
Immediately after payment, you will be sent a unique and unused CD Key which can be activated on Steam. You can collect this activation code from our Autokey page.? Simply enter your code into the Steam client (available free from steampowered.com). This will then grant you to a full digital download of the game.
How does our website work?
CJS CD Keys sell brand new CD Keys either taken directly from brand new sealed copies of the game, or sourced directly from world-leading game publishers. We source our keys in bulk directly from leading distributors and publishers, which reduces shipping costs.? This enables us to offer instant online delivery, at extremely competitive pricing.
After you receive your key, you can activate the game on the Steam client (available free from steampowered.com). After you activate the game with the Steam software, you can download the game immediately and instantly.
Benefits of buying from CJS CD Keys:
Instant Delivery
NO payment fees
NO shield fees - we offer a money-back guarantee within the price!
BEST PRICES!
Region Free
This product key we are selling is sourced directly from the publisher, or an official distributor of the game publisher. The key is completely region free and includes all languages. Region free means that you can activate the product code from anywhere in the world.
About Strikers Edge:
Strikers Edge is a medieval dodgeball with weapons, ancient warriors and special powers. Challenge your opponents in online and local multiplayer, ascend to the top of the ladder and become the best striker!

DODGEBRAWL: Strikers Edge is a game of dodgebrawl! Use whatever means it takes to bring your foe down from your side of the rift.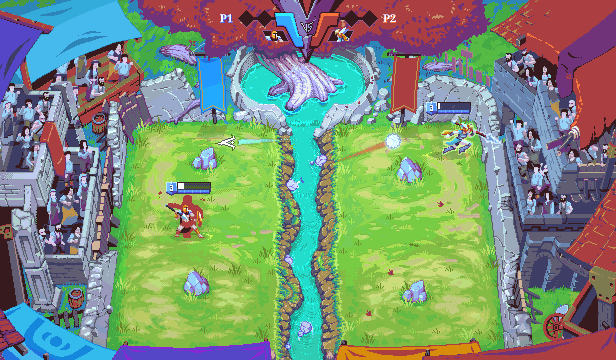 GIT GUD: Get your accuracy on point, anticipate your enemies' trajectories and get the psychological upper hand to annihilate the opposition!

ONLINE AND LOCAL: Fight online or locally as one of 8 unique strikers across 4 different arenas. Achieve greatness in 2v2 with a friend or become the top striker in 1v1!

PICK UP & MASTER: Each striker has its own set of abilities, weapon, stats and playstyles. Which one will you choose and master?



Choose among 8 unique strikers, each with it's set of abilities, play style and strategies.

Play 1vs1 and 2vs2 matches, obliterate the opposition in online and local sessions.

Select between 4 different arenas with distinct layouts, obstacles and hazards to add to your strategy.

Uncover the characters' background stories in their respective single player campaigns.

Easy to learn, hard to master: pick your favorite striker and get ready to discover all his hidden mechanics, combos and nuances.

Strikers Edge puts mind games front and center. Predict your opponents moves and surprise them with yours!

Twitch Integration: Streamers will be able to interact with their audience when playing: viewers can become a member of the crowd inside the game, throw cheer or boo at the players, vote for match modifiers and more!