This product is a brand new and unused Hunt: Showdown - Ronin CD Key for Steam.
Immediately after payment, you will be sent a unique and unused CD Key which can be activated on Steam. You can collect this activation code from our Autokey page.  Simply enter your code into the Steam client (available free from steampowered.com). This will then grant you to a full digital download of the game.
How does our website work?
CJS CD Keys sell brand new CD Keys either taken directly from brand new sealed copies of the game, or sourced directly from world-leading game publishers. We source our keys in bulk directly from leading distributors and publishers, which reduces shipping costs.  This enables us to offer instant online delivery, at extremely competitive pricing.
After you receive your key, you can activate the game on the Steam client (available free from steampowered.com). After you activate the game with the Steam software, you can download the game immediately and instantly.
Benefits of buying from CJS CD Keys:
Instant Delivery
NO payment fees
NO shield fees - we offer a money-back guarantee within the price!
BEST PRICES!
Region Free
This product key we are selling is sourced directly from the publisher, or an official distributor of the game publisher. The key is completely region free and includes all languages. Region free means that you can activate the product code from anywhere in the world.
About Hunt: Showdown - Ronin:
About This Content
This DLC contains two gruesome weapons and one legendary hunter -
The Tanto
The Ronin has worn this blade since the day of his oath. During his travels across land and sea, it has been a loyal companion - as keen for fresh blood as its carrier.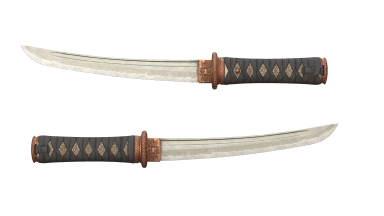 Seinan Sharpshooter 
The Ronin briefly fought with the last samurai during the Seinan War, pledging himself to Saigō Takamori. There, he gained notoriety for his deadly use of his Springfield 1866, one of the most advanced weapons on the field. 

The Ronin
Inuta Bakin had barely sworn his oath of allegiance before the Tokugawa shogunate was disposed. Without a master, he has wandered further than most Ronin, seeking the power to take revenge. Something of a traditionalist, he dresses and fights in a style stretching back centuries, but still effective: his leering Oni mask has been the last sight of many to fall in the bayou.