This product is a brand new and unused GUILTY GEAR -STRIVE- CD Key for Steam.
Immediately after payment, you will be sent a unique and unused CD Key which can be activated on Steam. You can collect this activation code from our Autokey page.  Simply enter your code into the Steam client (available free from steampowered.com). This will then grant you to a full digital download of the game.
How does our website work?
CJS CD Keys sell brand new CD Keys either taken directly from brand new sealed copies of the game, or sourced directly from world-leading game publishers. We source our keys in bulk directly from leading distributors and publishers, which reduces shipping costs.  This enables us to offer instant online delivery, at extremely competitive pricing.
After you receive your key, you can activate the game on the Steam client (available free from steampowered.com). After you activate the game with the Steam software, you can download the game immediately and instantly.
Benefits of buying from CJS CD Keys:
Instant Delivery
NO payment fees
NO shield fees - we offer a money-back guarantee within the price!
BEST PRICES!
Region Choice:
This product we are selling is sourced directly from the publisher, or an official distributor of the game publisher. The key is available for a choice of regions. Please choose your correct region from the selection menu.
About GUILTY GEAR -STRIVE-:
Discover the Smell of the Game with Guilty Gear -Strive-! Immerse yourself in new gameplay mechanics designed to be simple and welcoming for fighting game newcomers, yet deep and creative for veterans. Ride the Fire into a heavy metal inspired alternate future full of over-the-top action, style and fun! Blazing!

"Guilty Gear -Strive-" is the latest entry in the critically acclaimed Guilty Gear fighting game franchise. Created by Daisuke Ishiwatari and developed by Arc System Works, "Guilty Gear -Strive-" upholds the series' reputation for a high octane soundtrack, groundbreaking hybrid 2D/3D cell-shaded graphics and intense, rewarding gameplay.




◆The fate of the universe will be determined…
Head into the final confrontation with That Man, the person responsible for all the destruction and damage to the world and and it's inhabitants. Join Sol Badguy, his rival Ky Kiske, and a total starting roster of 15 unique characters as they face the astonishing conclusion to a story 20 years in the making!



◆A Sensory BLAST for Your Eyes and Ears
Rock out to the thrashing tracks laid down by series creator and music composer, Daisuke Ishiwatari! Bang your head and beat your opponent to the killer soundtrack while being blown away by the most stunning and dynamic 3D cell-shaded visuals produced to date!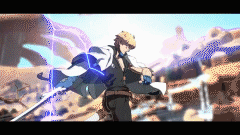 ◆New Revolution in Fighting Games!
Guilty Gear -Strive- brings a number of new and innovative game play mechanics designed to allow players new to the series to quickly learn the fundamentals while maintaining the deep, creative gameplay Guilty Gear is praised for. New additions to the series such as a wall-breaking mechanic will allow for new and exciting approaches to battle.