This product is a brand new and unused Fight The Dragon CD Key for Steam
This product is a unique and unused CD Key which can be activated on Steam. After your payment, you will be instantly sent a unique activation code by our automatic delivery system, called 'Autokey'. This unique activation code can be entered into the Steam client (available free from steampowered.com). This will then grant you to a full digital download of the game.
How does it work?
CJS CD Keys sell brand new CD Keys taken directly from brand new sealed copies of the game. We source our keys in bulk direct from major Distributors. After you receive your key, you can activate the game on the Steam client (available free from steampowered.com). After you activate the game with the Steam software, you can download the game immediately and instantly.
Region Lock
The game keys we are selling are sourced from the EU. They are completely region free and include all languages. This means that since this is a steamworks game, you can activate the key from anywhere in the world. There are absolutely no region locks.
About Fight The Dragon:
Build, Explore, Battle & Loot in this GAUNTLET inspired USER CREATED hack'n slash
Create & share Adventures like a true Dungeon Master of old!
Fight The Dragon is a
COMMUNITY CREATED
Hack'n Slash RPG where players can team up and tackle exciting adventures made by other community members in our in-game Adventure Construction Kit (ACK).
It's DIABLO meets LITTLE BIG PLANET
Follow us on twitter -
http://twitter.com/3sprockets
Our Latest Dev Let's Play 9 Video... 18th December 2014
http://steamcommunity.com/sharedfiles/filedetails/?id=357821583
See all of our Dev Let's Play videos here...
http://steamcommunity.com/app/250560/discussions/0/540743757658485898/
Players can play single player, local split-screen couch co-op (2 players) or online multiplayer (4 players) to complete 10-15 minute adventures in a non-linear order, which allows players to jump in for a quick fix or play multiple adventures over longer play sessions. Collect loot, level up, conquer enemies and become a master adventurer!
Become the ultimate Dungeon Master you always dreamed of being!
Fight The Dragon ships with a highly flexible in-game Adventure Construction Kit (ACK) that allows players to design, play and share their own adventures with other players on all platforms around the world.
The ACK (as is the gameplay) is designed to be as intuitive to use via a gamepad as it is via mouse and keyboard. Creators are able to sculpt and paint environments, place props, enemies, NPCs, Traps, checkpoints and other key game elements including hooking up basic logic systems for switches/gates and traps.
The Fight The Dragon community have already published over 1600 fantastic adventures, which means we have hundreds of hours of gameplay already created.
ACK FEATURES
Great assortment of Melee, Ranged and Mini-Boss Enemies

Large selection of textures to paint environments with

Static & Dynamic props including realtime lights, traps, bridges & more

Super intuitive editor allowing rapid design

In editor play testing at any time
Dragon Battle Arena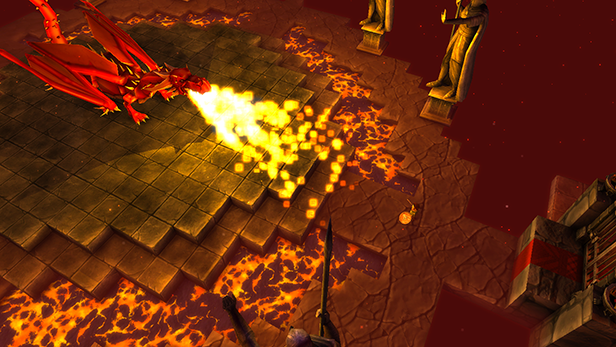 As heroes complete adventures and reach milestones, they earn tickets that allow them to go "Fight The Dragon" in the ultimate dragon battle arena.
Every player has their own dragon to fight, and each dragon has MEGA HP, so killing your dragon will require many encounters and a lot of skill. The damage you do to your dragon is persistent between play sessions, so collect as many tickets as you can and go battle it out! Each ticket grants the player 3 lives, but be warned, there are more ways to die in the dragon arena than just the dragon, so stay alert!
Key Game Features
In-Game Adventure Construction Kit – Create and share Adventures!

Over 100 hours of unique gameplay created by our community so far!

Action packed Hack-and-Slash Adventuring in your own creations

Female and Male versions of all of our classes

Local Drop-In Split-Screen Couch Co-Op

Up to 4 player online Co-Op (cross platform)

LAN server for local 4 player Co-Op

Intense Dragon Fights with special dragon loot

Full gamepad & Big Picture support
State Of the Game - FAQs
Game - Current State & FAQ
http://steamcommunity.com/app/250560/discussions/0/558751660786031250/
Adventure Construction Kit - Current State & FAQ
http://steamcommunity.com/app/250560/discussions/0/558751812695879447/